Quickorders Knowledge Base
Get Support 24/7
How to Handle Restaurant Operations in Quickorders?
You can design your menu and change it according to the availability of your services if you have set up your food ordering services online. Here is a step-by-step instruction manual to assist you in creating or updating your restaurants at any moment. Merchants who are listed on your marketplace can update their offerings, adjust prices, and alter other facets of how their product or service appears to buyers with the help of a dedicated dashboard.
The admin can search for a restaurant using its name, email address, or restaurant ID using the search bar that is located in the upper right corner of the restaurant feature.
A trash symbol is included next to the search field to assist the admin in erasing a specific restaurant or all of the restaurants at once.
The admin can also import or export restaurants from a CSV file.
The filter button can help the admin filter the restaurants on the basis of various criteria like reviews, maximum delivery time, minimum delivery time, item quality, and blocked restaurants.
Restaurants Feature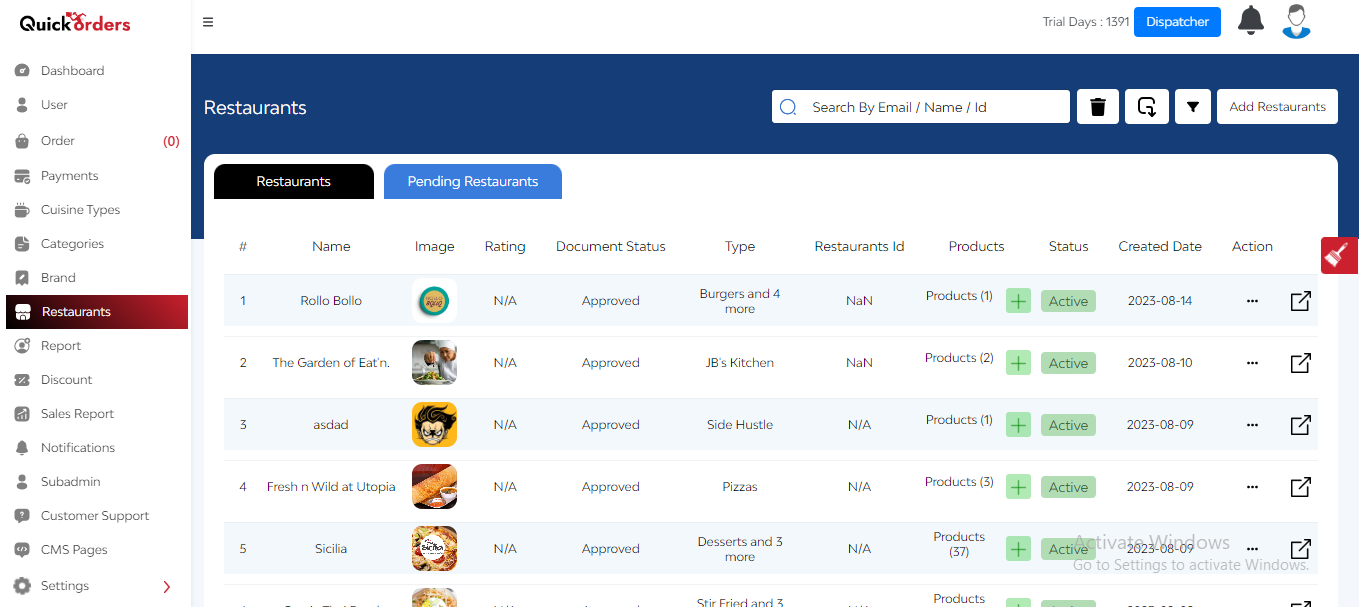 How to Add a New Restaurant?
Click the "add restaurant" button to add a new restaurant.
The admin will now need to enter information such as the restaurant's contact information, delivery choices, bank information, and business hours.
Click the add button to add a new restaurant to the admin panel once you have finished providing the details.
A manual mode toggle is located underneath the new restaurant button and allows the admin to temporarily turn off the merchants.
The customer app will update to reflect this change.
The type section lists the different types of food served at a specific restaurant.
The "restaurant ID" refers to a special ID that is created just for that eatery.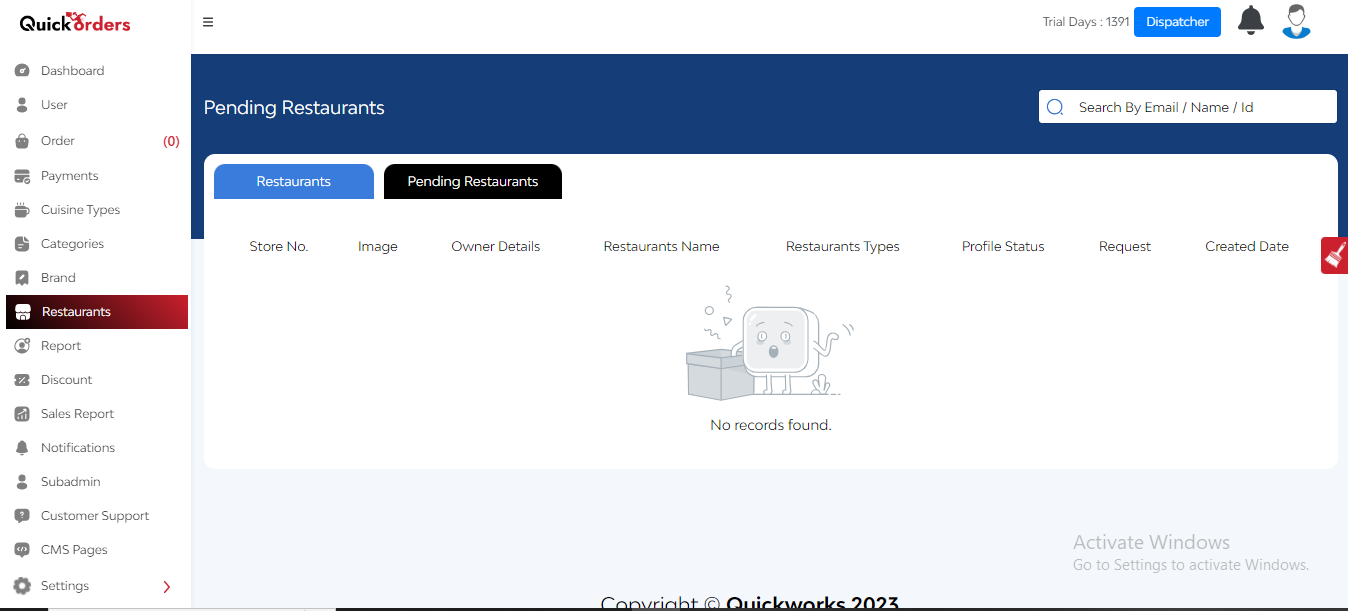 Restaurants whose onboarding requests are awaiting approval are included in the pending restaurant section. In the restaurant's section, the admin will be able to see various details of a restaurant like its name, image, and rating. The document status represents the approval status of the documents submitted by the restaurant owner. The amount of products the restaurant offers is shown in the product tab. If the merchant is unable to do so, the admin may also add products.
The activity level of a specific restaurant is shown in the status tab.
The admin can switch a restaurant's status from active to blocked and vice versa.
The created date tab denotes the specific day the restaurant was included in the panel.
The admin can check a restaurant's ratings and update or delete them using the action tab.
A separate button is also accessible next to the action tab and will send the administrator to the merchant panel.
So this was all about the restaurant feature of Quickorders. To learn more about this feature, get in touch with our expert team.
View Demo