No-Code Application Development: A Rising Disruptive Force

130 Views

8

min

June 14, 2023

Last Updated: June 19, 2023
No matter the size or resources, businesses can now create cutting-edge applications and digitize their operations to meet the escalating demands of ever-evolving markets.  All thanks to the No-Code Development approach.
If you are also a small business planning to digitize your business, you can now create a strong online presence, market your products/services, and reach a wider audience using user-friendly, visual drag-and-drop tools and templates.
This simplified no-code approach to app development has opened up new opportunities for small and medium-sized enterprises. They can effortlessly design dynamic business applications tailored to their customers' needs, without any coding knowledge. Launching and digitizing their businesses can be achieved in seconds. In this blog, we will talk about this no-code development approach in detail to find out how it can help your business.
So, let's get started.
First Things First, What is Low-Code Development?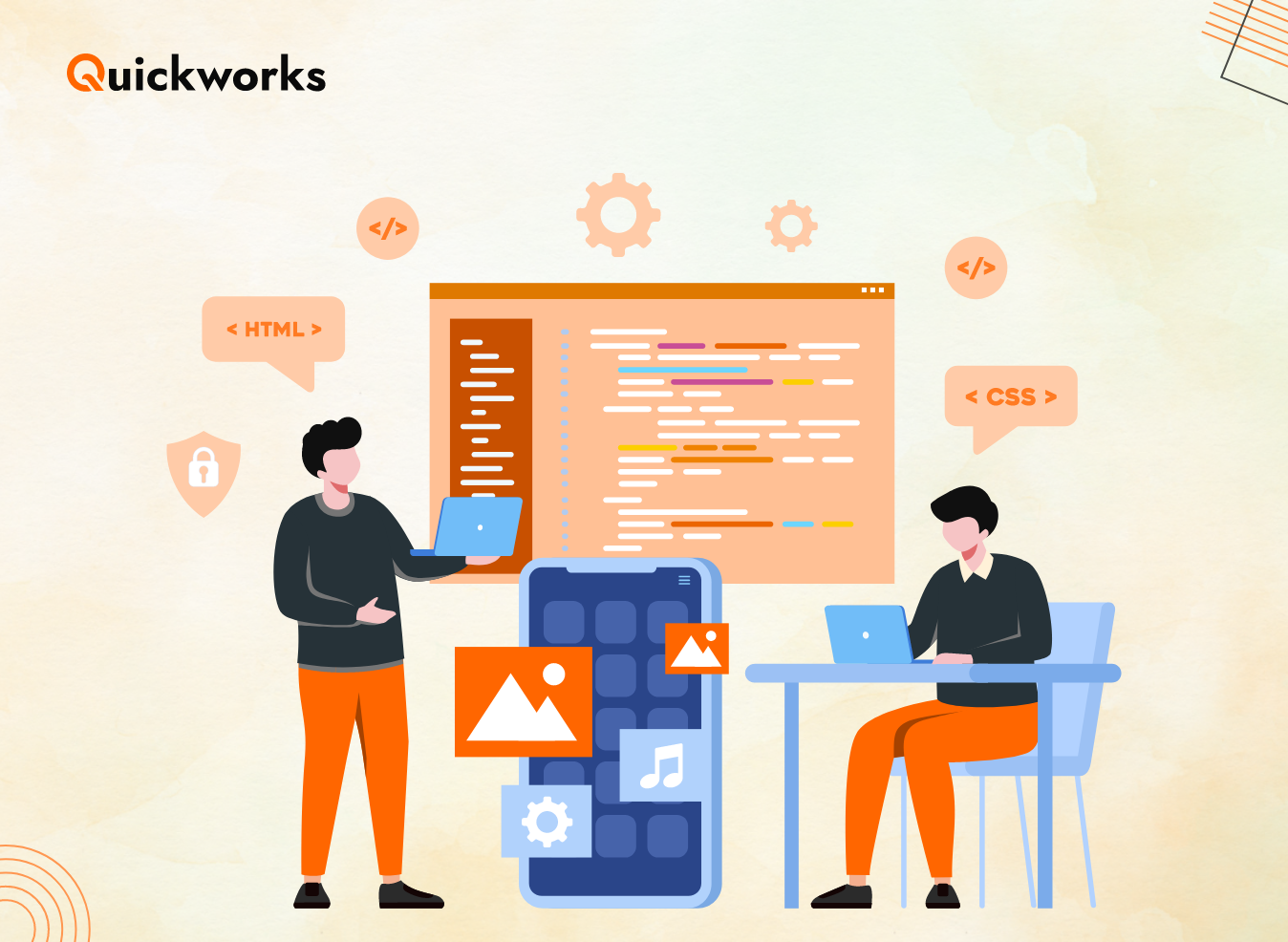 Low-code is a visual approach to software development that accelerates delivery and makes it easier to create software or apps without the assistance of a skilled developer. No-code technology includes a highly intuitive, visual "drag and drop" interface.
With the use of drag-and-drop visual tools, people can create apps, solutions, and workflows using the no-code method of software development. A variety of pre-built templates and modules are offered by these no-code tools, and they can be customized to match particular needs.
Even a non-technical individual can implement and design procedures and solutions, no-code frameworks are growing in popularity. No-code development creates apps using straightforward tools like drag-and-drop and option selection. The platform is essentially a visual environment where people without any programming experience may make an intuitive and fully-functional app.
Developers have been at the vanguard of society ever since the world transitioned to the digital era. Worldwide, their demand has grown over time. The demand is greater than ever as every industry undergoes a digital transition. Organizations' pain points are being exploited by this demand because, despite their best efforts, they cannot afford or locate outstanding IT workers who can handle all of their IT requirements, despite their desire to undergo a digital transformation.
Why No-Code Development is the Future?
Low-code, no-code applications are the wave of the future, as seen by the increasing growth of software development firms. The demand for no-code/low-code software development has increased as a result of the quickening of the digital environment. Visual development platforms are used in low-code, no-code software development to provide enterprises with mobile programming solutions.
The size of the global market of no-code development was estimated at USD 11.45 billion in 2019 and is projected to increase at a CAGR of 22.7% from 2020 to 2027. 84% of businesses now use no-code app development solutions to boost speed to market, decrease demand on IT resources, and include the company in the creation of digital assets. The market for low-code development platforms is anticipated to reach $187 billion in sales by 2030, up from $10 billion in 2019, and is anticipated to grow rapidly (31% CAGR) during the forecast period.
These platforms for no-code and low-code development reduce the amount of coding necessary to make a mobile application. Businesses can create no code development platforms without a software developer by employing visual application development templates.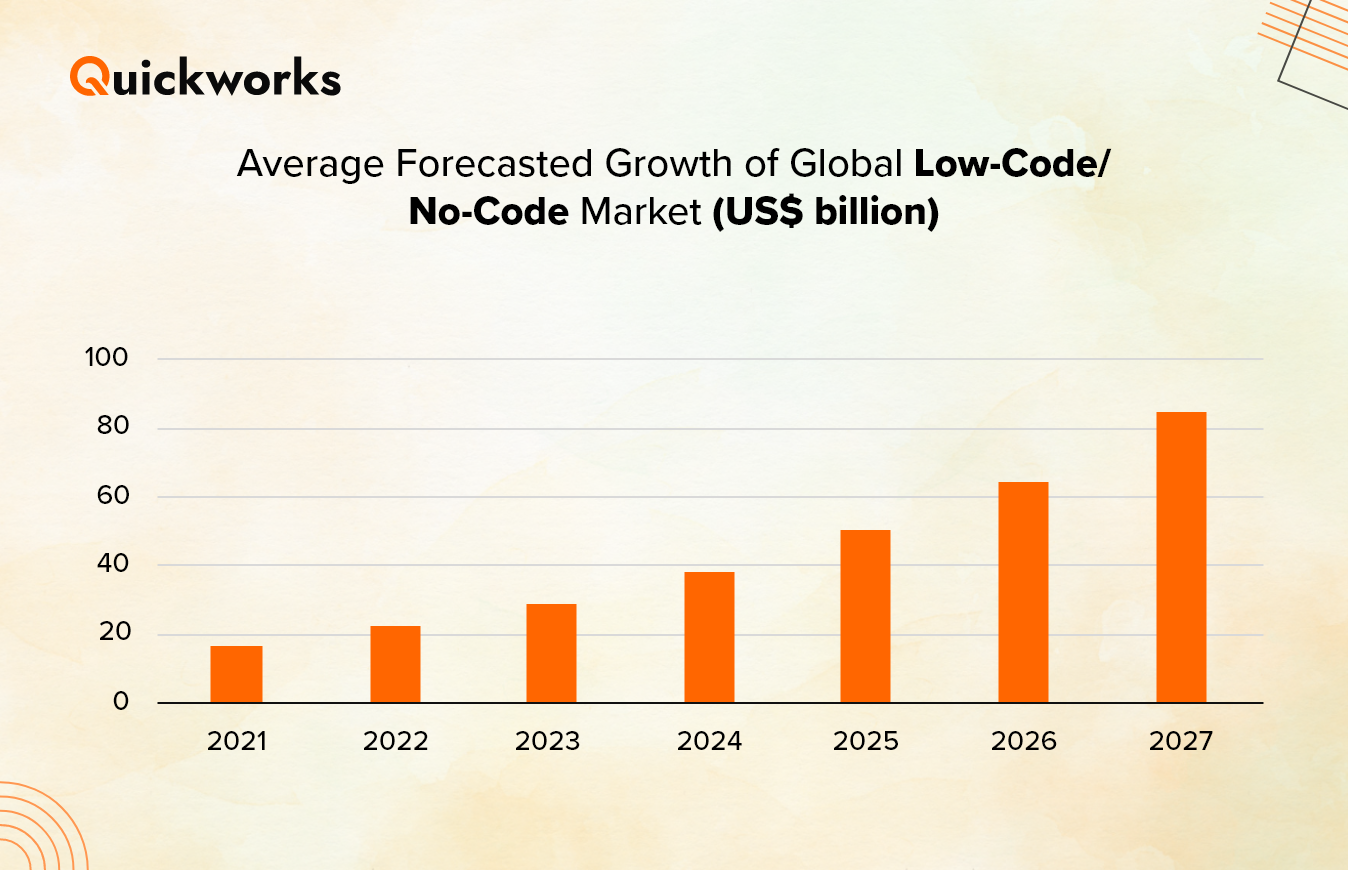 No-code development uses a visual interface, citizen developers need just the most elementary knowledge of coding. The firm is less dependent on developers to produce mobile applications with visual software development platforms. This gives non-coders their 'power' back in the application development process. The programming that first optimizes no code application development platforms was created by developers.
These startups that develop with little or no coding are among the most well-known in the contemporary technical startup scene. Many more companies now use no code tools and applications as a result of their quick growth. Visual platforms and no-code development are the way of the future.
6 Perks Your Business Can Enjoy With No Code Development
Businesses that decide to use no-code development solutions to create mobile applications can benefit from a number of benefits.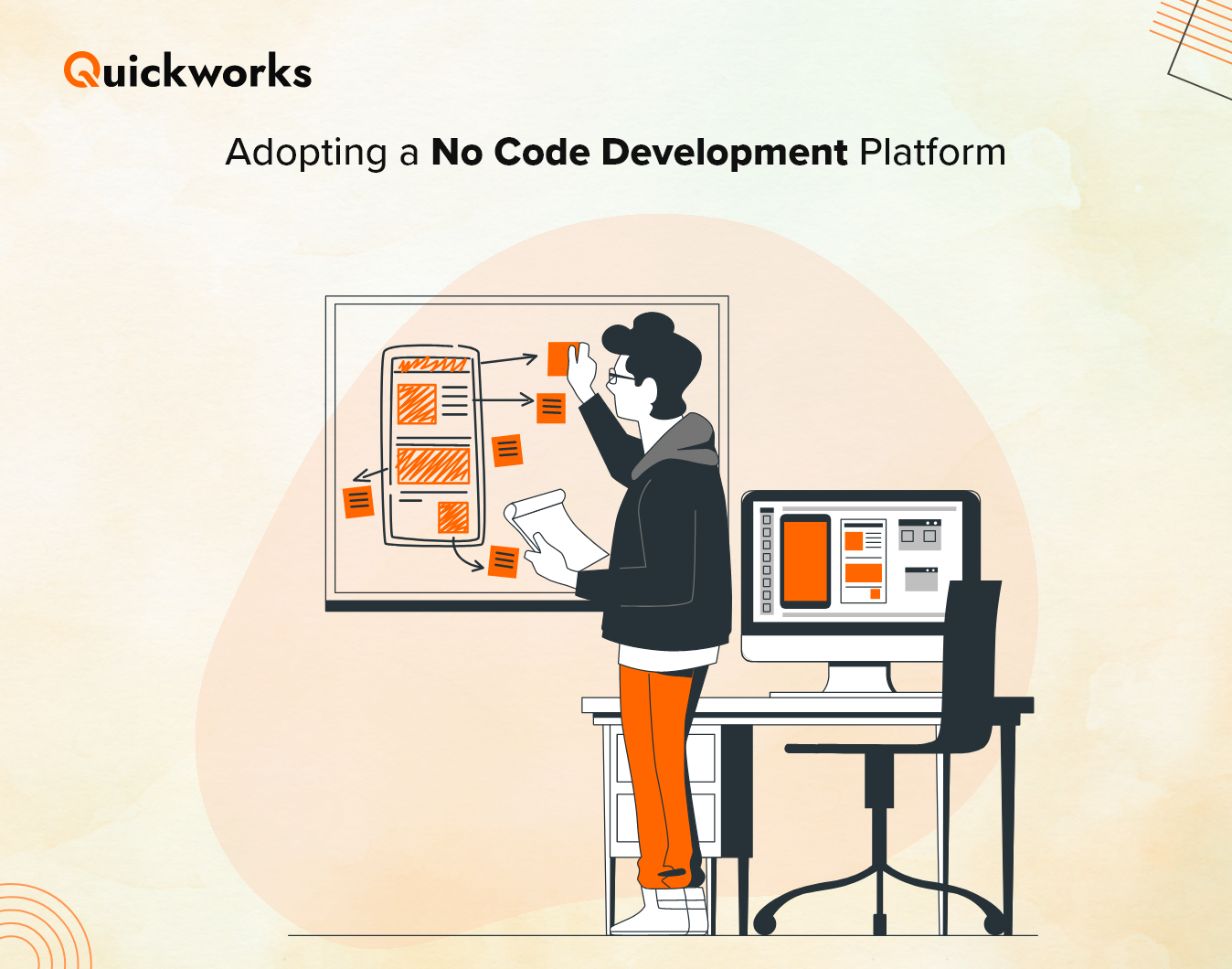 1Streamlined Problem-Solving
There may be a wide range of capabilities and problem-solving abilities among employees within an organization. These people are able to exercise more independence in problem-solving within their departments because of no-code and low-code. This is due to the fact that development itself decentralizes the process of problem-solving. It increases control for issue solvers who might not have received the same formal training as a traditional software engineer. 
Therefore, no-code, low-code application development platforms promote team communication and problem-solving that is more effective. Management teams can locate organizational problem solvers using low-code platforms. The number of accessible human resources within the company increases when managers can spot issue solvers.  As a result, organizations have a larger pool of internal expertise for solving issues. 
2Enhanced Customer Experience
The average client of today rarely accepts less than that. If you make one small mistake, they'll be gone in a flash. In other words, they continually strive for perfection, and a consistently subpar client experience is a significant turnoff. 
One of no code application development most obvious advantages is that it enables businesses to create apps more quickly and effectively, which is a huge plus for clients. In fact, SaaS application development allows average users to create and deploy customer-facing applications up to 80% more quickly. It's true that firms may automate essential business activities with a minimal and no-code approach in as little as a month, compared to nine to twelve months with a traditional strategy. 
3Greater Communication
The confidence it instills in your software and procedures is one of the most underappreciated benefits of no code technology. As you are aware, traditional software development is a siloed process by nature. The best-case scenario is that development teams struggle to inform other business teams of their activities. 
In the worst-case scenario, teams purposely withhold information out of a sense of preparedness. Essentially, the development team withdraws into isolation with an idea and emerges several months later with a finished product. This conceals information from others and downplays the importance of close cooperation during the growth process.
4Great Results
No code development platforms attempt to change that. No-code development brings disparate teams together and sets the foundation for shared objectives and a common language, as opposed to technical and non-technical departments operating in silos. A quick meeting with each stakeholder is all that is required to get the process started. Everything else will just organically fall into place after the first brainstorming session. Anyone can sit down at a computer and construct the app in real time because you don't need to have amazing programming skills to do so.
Your company gains from this degree of close cooperation in two key ways. First off, it implies that non-programmers can use low-code apps to accomplish more. Second, because it takes less time, seasoned programmers can accomplish far more. The collaborative advantages of low-code development platforms are numerous, whether you are creating desktop apps, web apps, or mobile apps.



5Faster Time-to-Market
Technology now more than ever plays a crucial role in the world of business. Not only do business owners yearn for robust custom solutions, they also want them implemented more quickly than ever. Developers aren't actually magicians, which is a problem. They are unable to create complex apps in a matter of minutes. If you've experienced that situation in the past, you can relax knowing that no code app development solutions have other advantages as well, including quicker time to market. With these platforms, your team may produce enterprise-grade applications in as little as 2-3 days! In fact, no code technology can speed up software development up to ten times above conventional techniques. 
While defining project needs and commercial objectives will still take the same amount of time, low-code drag-and-drop capabilities, prebuilt templates, and data models all contribute to dramatically reducing the time it takes to market your product. Delivering your application before your rivals can give you a significant marketing edge and position you as a market leader.
6Reduced Cost
No code application development ability to deploy applications quickly helps firms solve problems. Citizen software engineers within the company are better able to produce solutions for their clients more swiftly with this speedy deployment. Effective no-code problem solvers can gain from more possibilities to develop internal talent. No-code development platforms development cut down on the requirement to hire outside software engineers to solve issues.
Mobile applications may be developed more quickly and released to the market with no-code development platforms. This cuts down on the time that would have been required to choose the best group of software engineers. Business apps developed using visual application development platforms can be deployed more quickly, enabling swift market changes. Their applications' flexibility and deployment speed may give them a bigger advantage over rival businesses and more money!
Innovative Software Development with No Code Technology Tools
Businesses are able to create, test, get user feedback, and update their applications with new software. Because in-house personnel dramatically streamlines this process, firms have more control over it. Businesses can avoid the additional expense of hiring software engineers with the enhanced autonomy of their software development process. Organizations can get more involved in their business's technical and creative backend by eliminating the requirement for outside software developers and adopting no code application development.
If your IT team could create cutting-edge apps fast and adaptably, consider how quickly you could meet growth targets, expand to new markets, or complete scope-intensive projects. Well, quit dreaming; in the world of no-code/low-code, that is already a reality. The one thing that low-code platforms can accomplish is that traditional development methodologies cannot make application development simpler. Your focus will shift from technical minutiae to high-value development details as a result of simplification. Design, usability, and functionality are important user-related features that are included in SaaS application development. These elements add value while innovation doesn't necessarily depend on how quickly your team creates unique apps. It's about launching your business with a unique approach.
Leverage the Best No-Code App Development Solutions
More consumers are looking for internet-based service providers to meet their demands and expectations as the smartphone sector grows. Small and medium-sized firms have been successful in creating an online presence for their companies using no-code technologies to keep up with the growing demand for digitized services. Additionally, they have been able to increase the size of their consumer base, which has assisted many in increasing their earnings and sales. They have created remarkable applications that have radically changed the way they run their business using well-known no code development platforms.
Now that more companies are trying to innovate and digitize themselves, no-code development has shown to offer the most adaptable and cost-effective alternatives. The best time for developers to learn no-code is right now because it will eventually make their jobs simpler.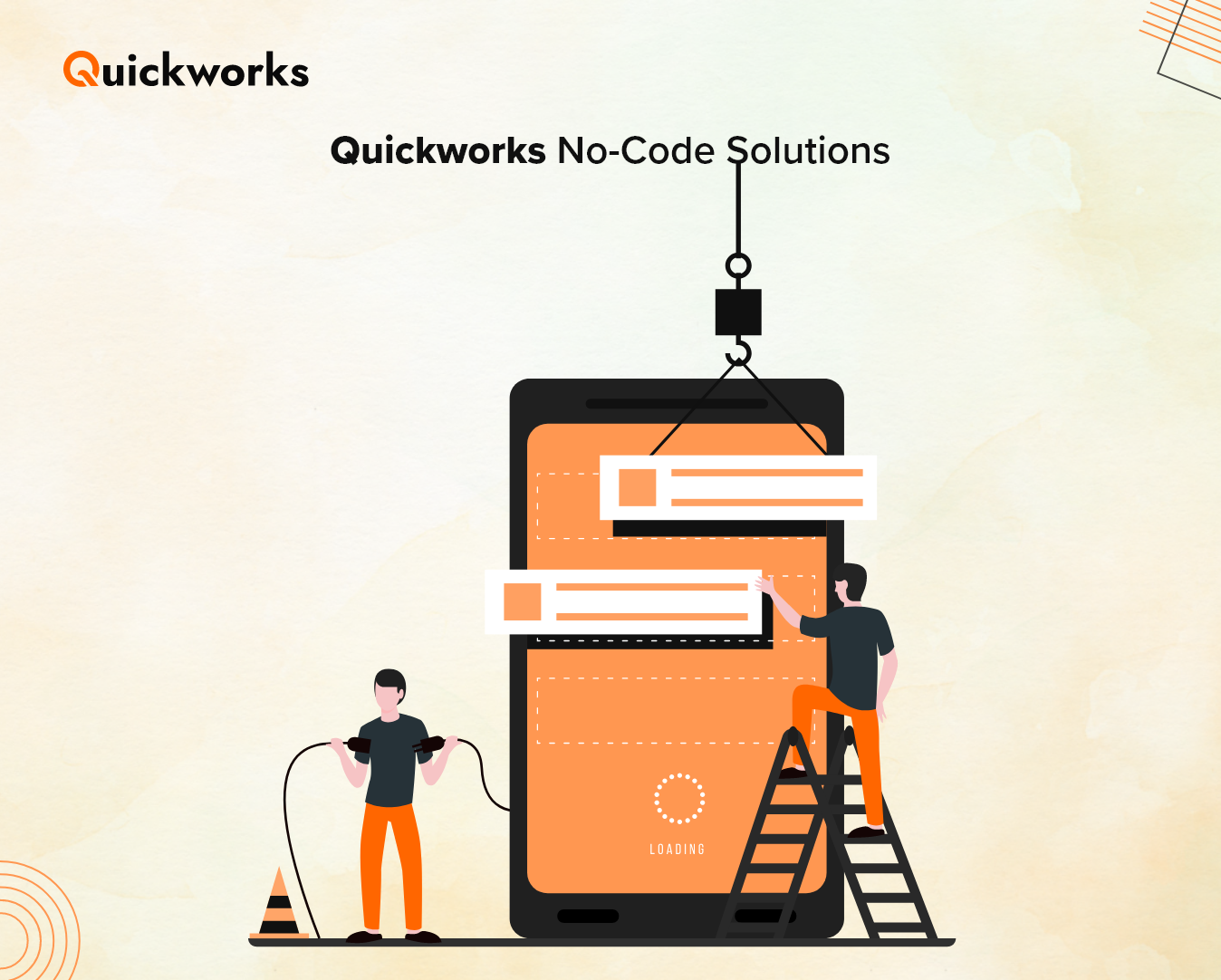 QuickDelivery
QuickDelivery is ready for market app solutions for the on-demand industry. The solution is the best option for automating a delivery firm because it is supported by cutting-edge features and cutting-edge technology. With a seamless delivery management system, QuickDelivery enables you to deliver anything anywhere.
Quickrides
QuickRides is a reliable, tried-and-true product that can be customized to meet the specific demands of your transport business. The solution enables your ride service to outperform the competition and upend the market.
Quickorders
A robust ordering & booking tool called QuickOrders streamlines business operations for the food, eCommerce, grocery, healthcare, home services, and other industries. Integrate this ready-to-deploy software to start your on-demand company.
Quickworks allows anyone to create adaptable and dynamic business applications for a range of use cases. Get quicker, more dependable, and more affordable methods of leveraging app solutions. Quickworks offers customer-focused development which is secure and highly scalable. We have been assisting numerous small and medium businesses in taking advantage of readymade app development solutions for more than 10 years. We're eager to include your company on this wealthy list. Give us a call right now to find out whether we're a good fit for you and your team.
Get a free 7-day trial at Quickworks today to launch your no-code applications.

Frequently Asked Questions(FAQs)
Writing code is not necessary with no-code development, which is the main distinction between it and traditional coding. Instead of using programming languages like Java, Python, or Ruby, No-Code Development builds apps using visual interfaces, drag-and-drop features, and pre-built templates. No-Code Development offers a user-friendly interface that enables people with little technical expertise to quickly design and distribute apps.
Faster development, reduced expenses, and more flexibility are just a few advantages of no-code development. People can construct applications with No-Code Development in a matter of hours or days as opposed to weeks or months with Traditional Coding. As they do not require trained developers, No-Code Development platforms often have cheaper costs than Traditional Coding. Additionally, no-code development offers more flexibility because users may easily and quickly make changes to the application.
No-Code Development is beneficial for businesses with little technical expertise or funding. Without engaging a specialized development team, entrepreneurs and small business owners can construct applications using no-code development. No-Code Development can also be helpful for people who want to grow their portfolios or get more experience in software development. Additionally, by enabling non-technical staff to develop apps, No-Code Application Development can help larger firms by lightening the load on the IT department.
By identifying areas where No-Code Development can boost productivity or efficiency, businesses can integrate it into their process.
Businesses must pick the appropriate No-Code Development platform that fits their needs and goals. Before implementing a platform, businesses should assess its capabilities, scalability, security, and support. Businesses can develop a plan for integrating No-Code Development into their workflow after choosing a platform and allocating resources accordingly.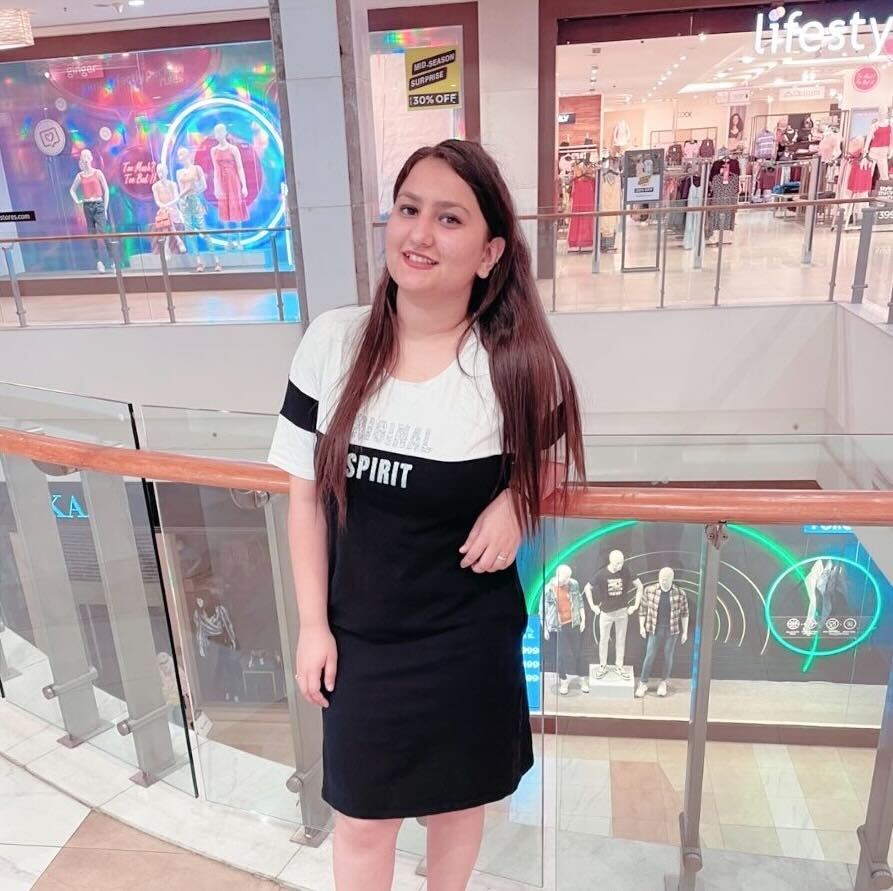 Chubby & Enthusiastic! Proficient in marketing research and statistical analysis. Highly creative with my thoughts about the latest mobile and web advancements. Dwell up the tech world with my glasses :)
Subscribe to Get Search Free
Updates on Upcoming Tech Stories.