Navigate Quickworks Admin Dashboard (Part-1)

153 Views

3

min

April 21, 2023

Last Updated: June 29, 2023
Signed up successfully to Quickworks Admin Panel? Hurray!! 🥳 Welcome on board
We're thrilled to have you experience our platform!
Here's how you can get started:
Create your Account
Get to know Quickworks Admin Backend
Create Customer
Place your first Order
Create drivers and assign your Orders
Track your orders and drivers
Get Notifications
Create insightful reports
Quickworks provides you a complete delivery management software for on-demand businesses. Prioritize and assign your operations with efficiency and precision. Our unique software suits all business types from SMEs to large companies. As you have seen it is effortless to create a new account with Quickworks, and it is much easier to operate the Admin Panel.
Once you have signed into your account, please note that you land directly to Admin Backend. This dashboard gives you access to customer and supplier panels from where the orders are placed and order statuses are updated. Quickworks believes in growing and supporting businesses with premium white labeling services.
Here we are explaining some easy steps to browse the Admin Panel.
# Dashboard
Firstly on the top, you can access your name attached with a bell icon where all notifications can be seen.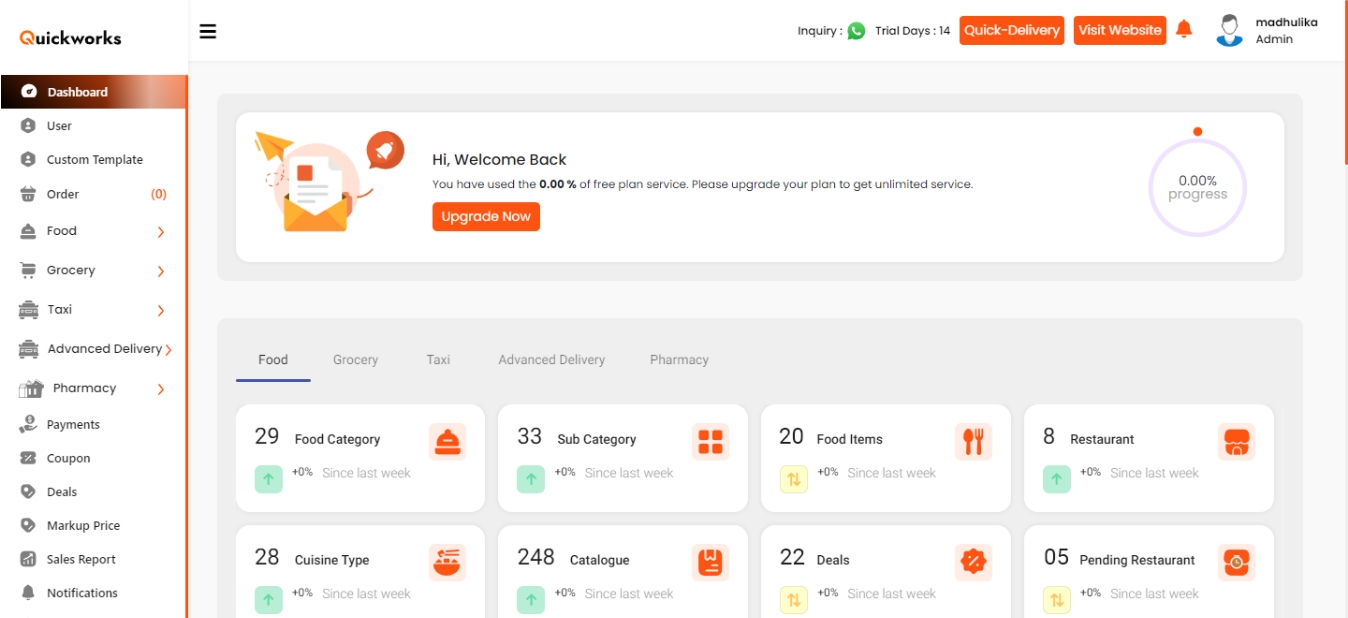 You can easily access different food categories that have been added, new items, restaurants, deals, and more. (Here we are showcasing Admin Panel for Food Delivery Business)
Food Category
Sub Category
Food Items
Restaurant
Cuisine Type
Catalogue
Deals
Pending Restaurant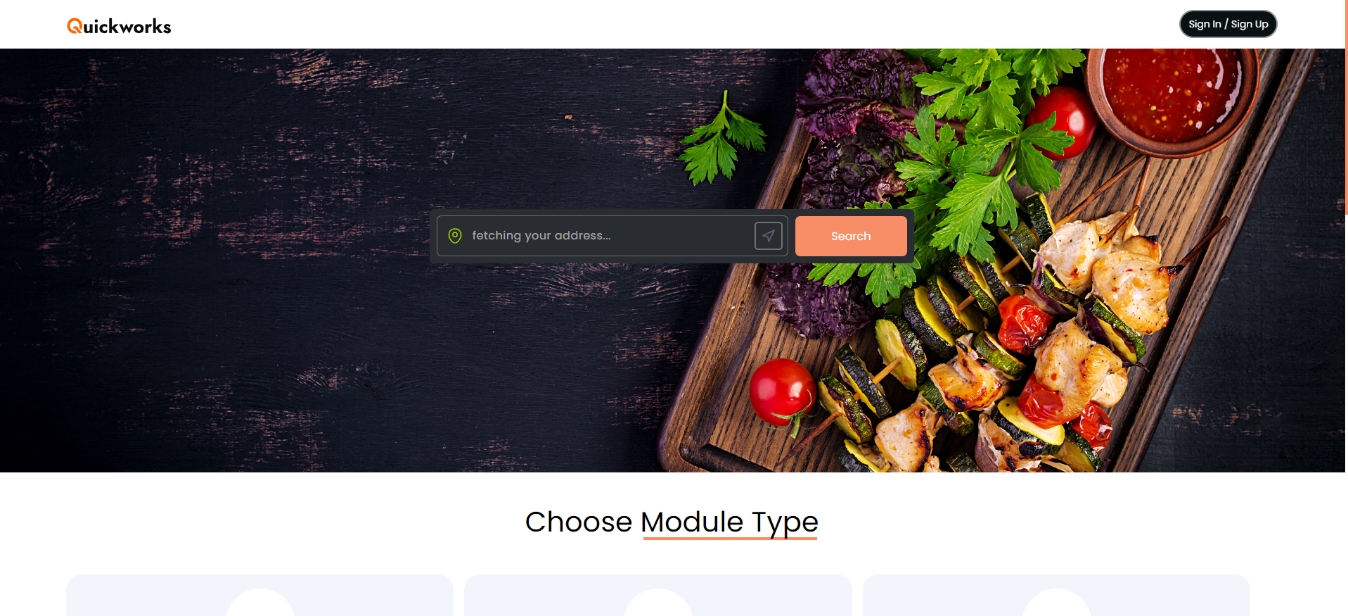 Now you can click on "Visit Website" to customize your website with your business details.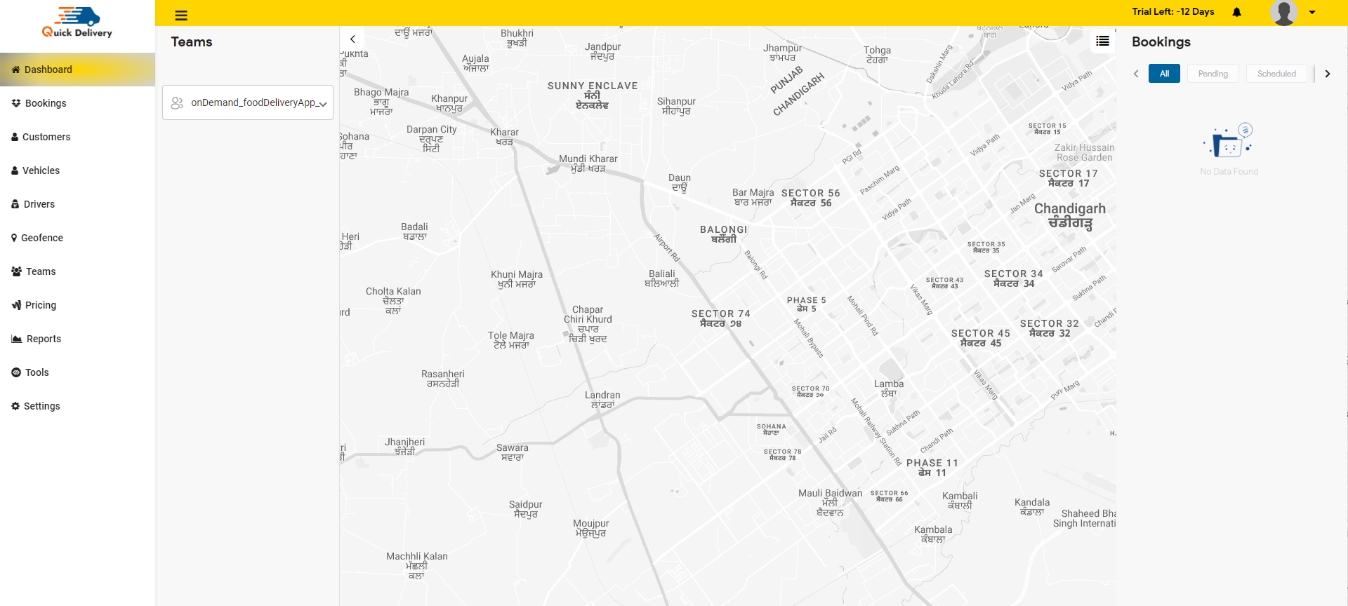 By clicking on "Quickdelivery", you can manage your bookings, customers, and drivers.
Coming below, you can browse the following categories with individual percentage increments seen last week.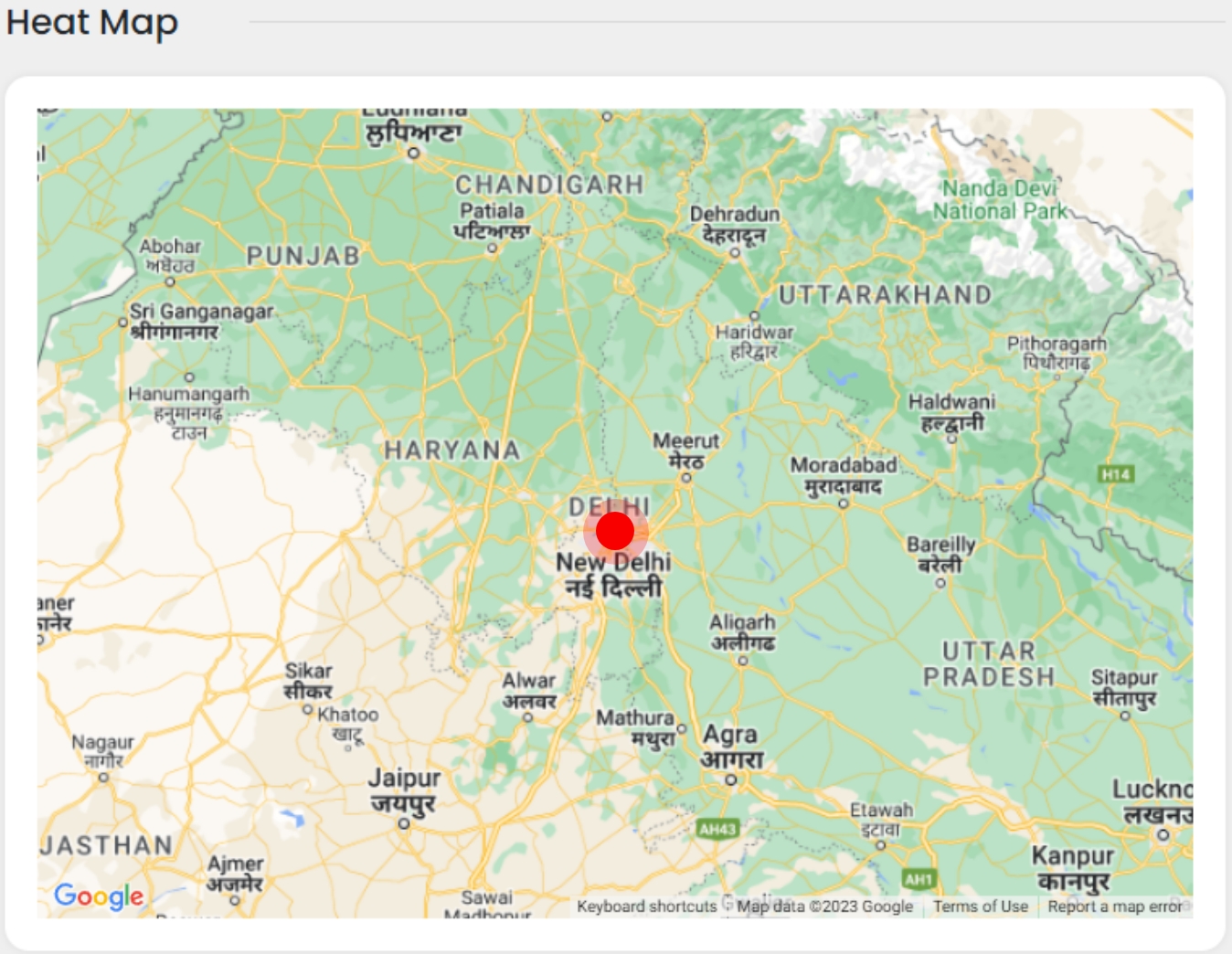 Heat Map will highlight a particular area in color from which a maximum number of orders have been received. In this way, the admin can keep track of areas where most orders are placed.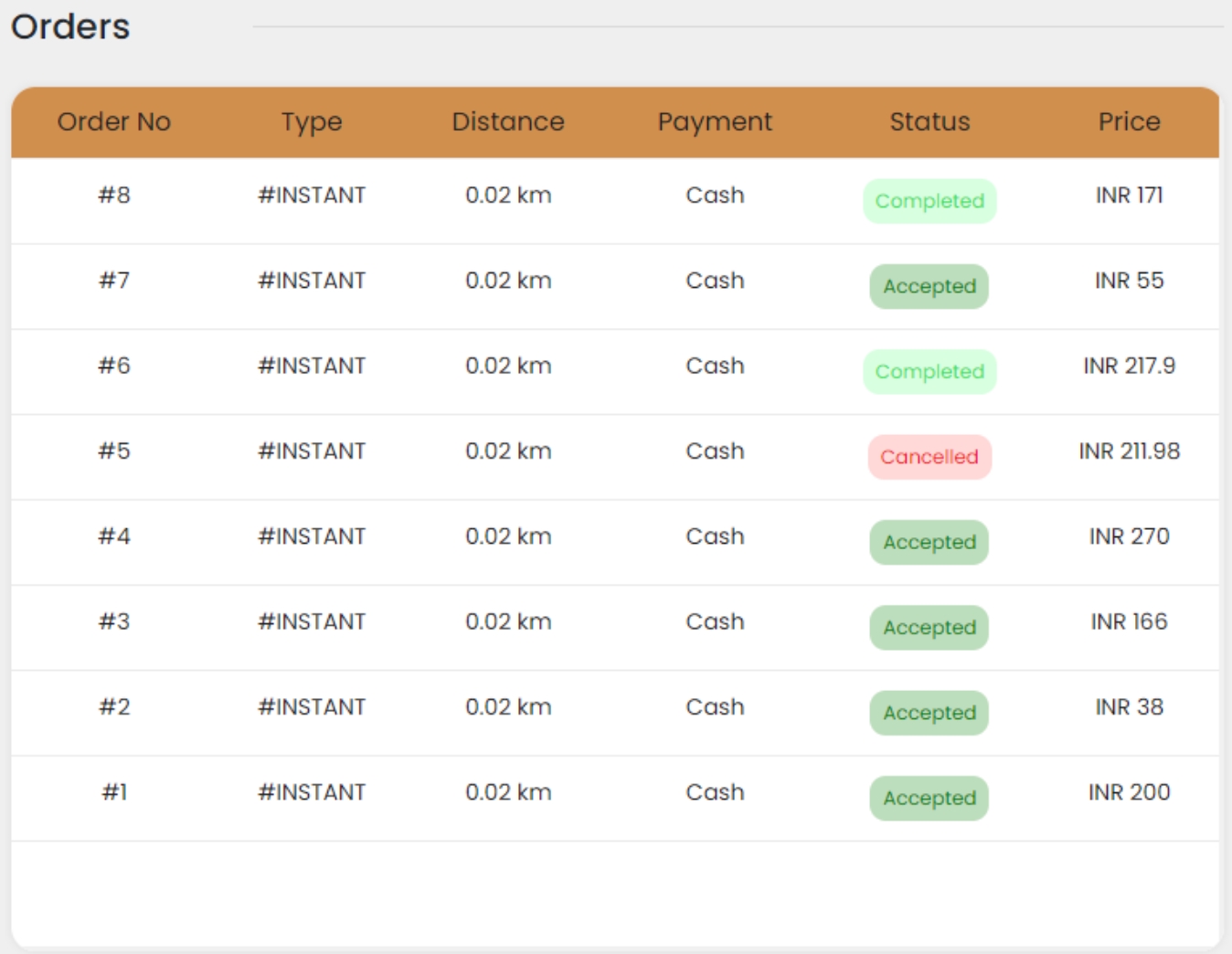 After this, Admin can browse Orders with Order No, Type, Distance, Payment, Status & Price with instant information displayed in a detailed manner.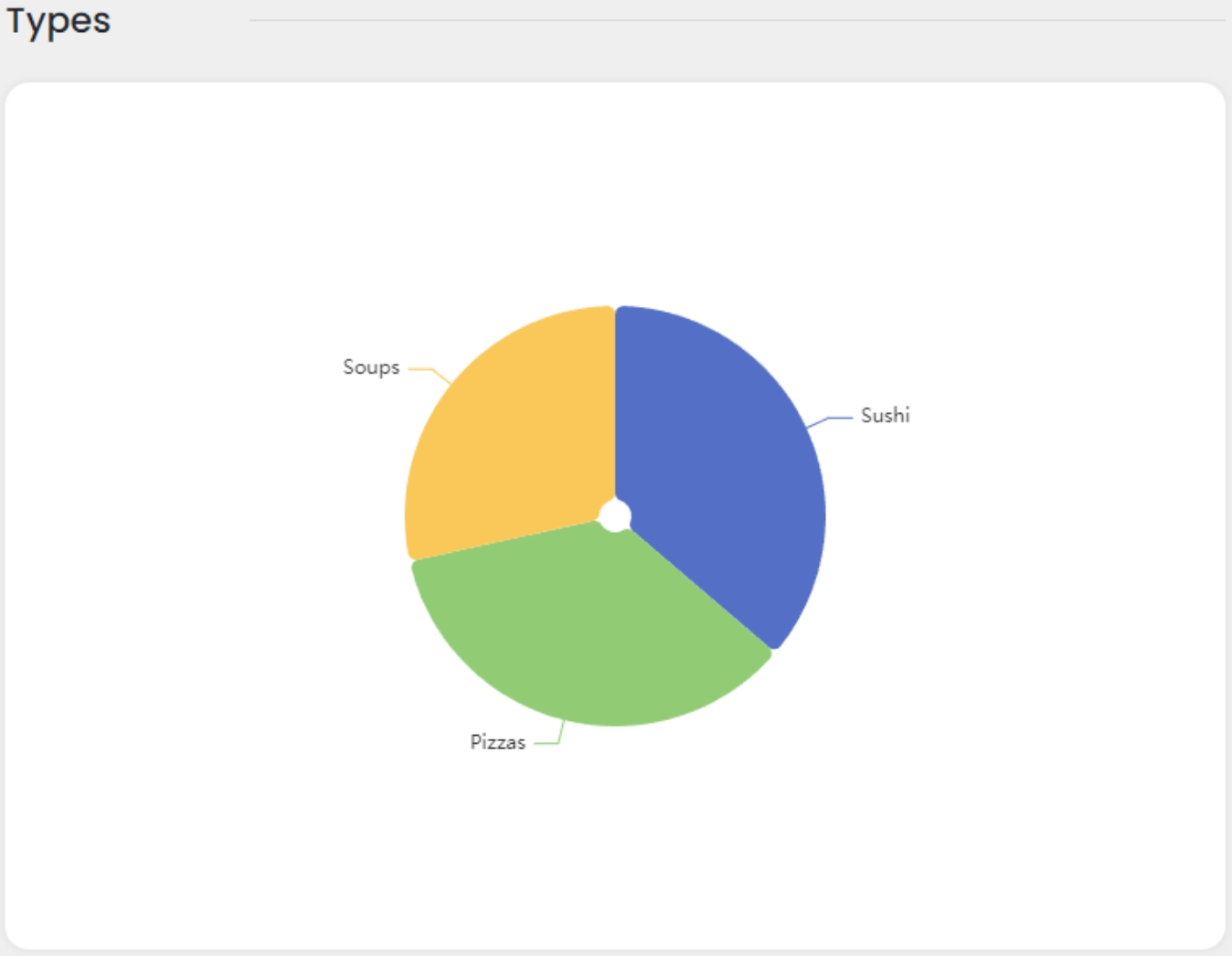 On the left-hand side, you can see the types of categories that are being sold at the most and their particular revenue.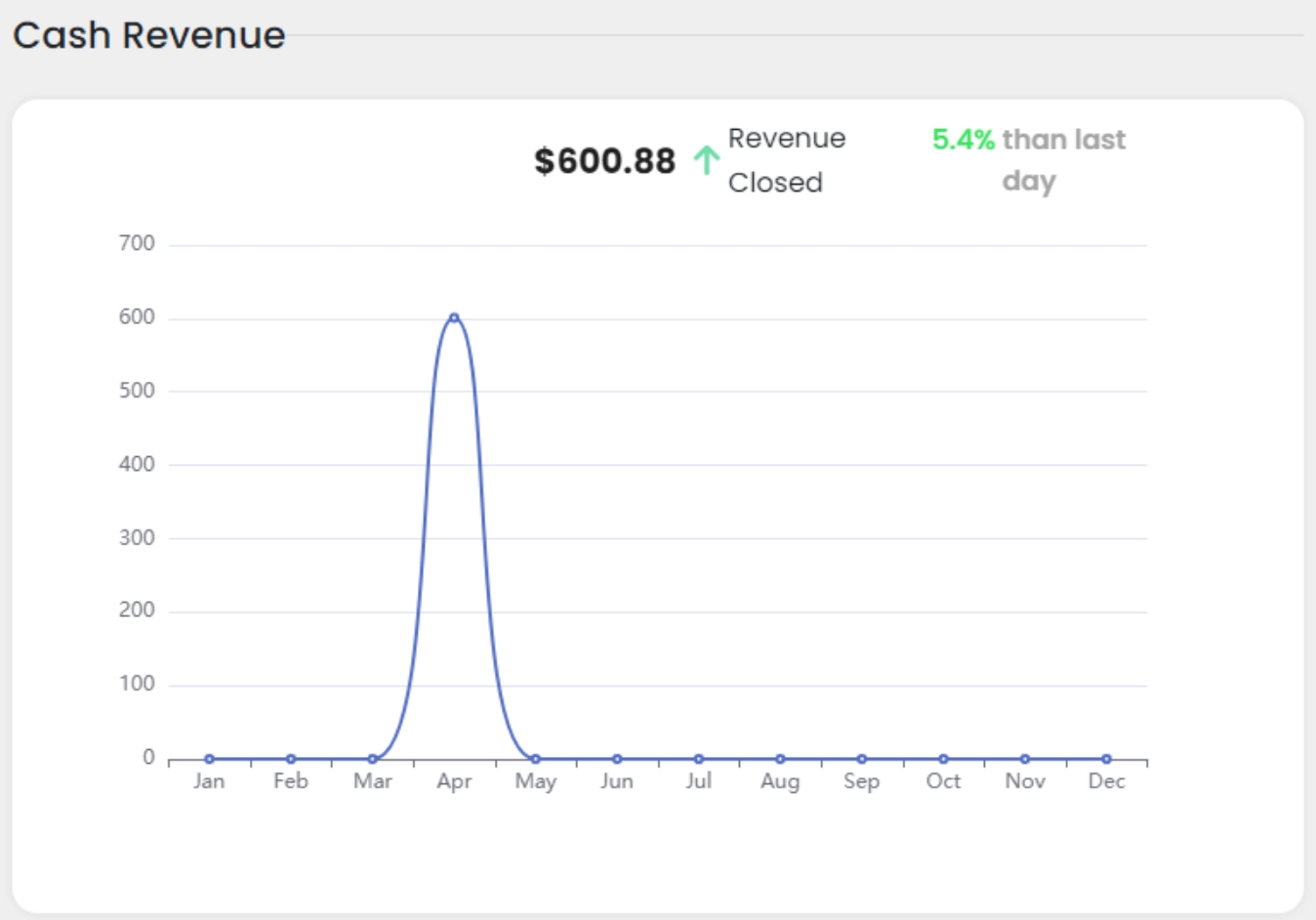 Here is a representation of Cash Revenue & Online Revenue with the percentage of revenue closed on the last day.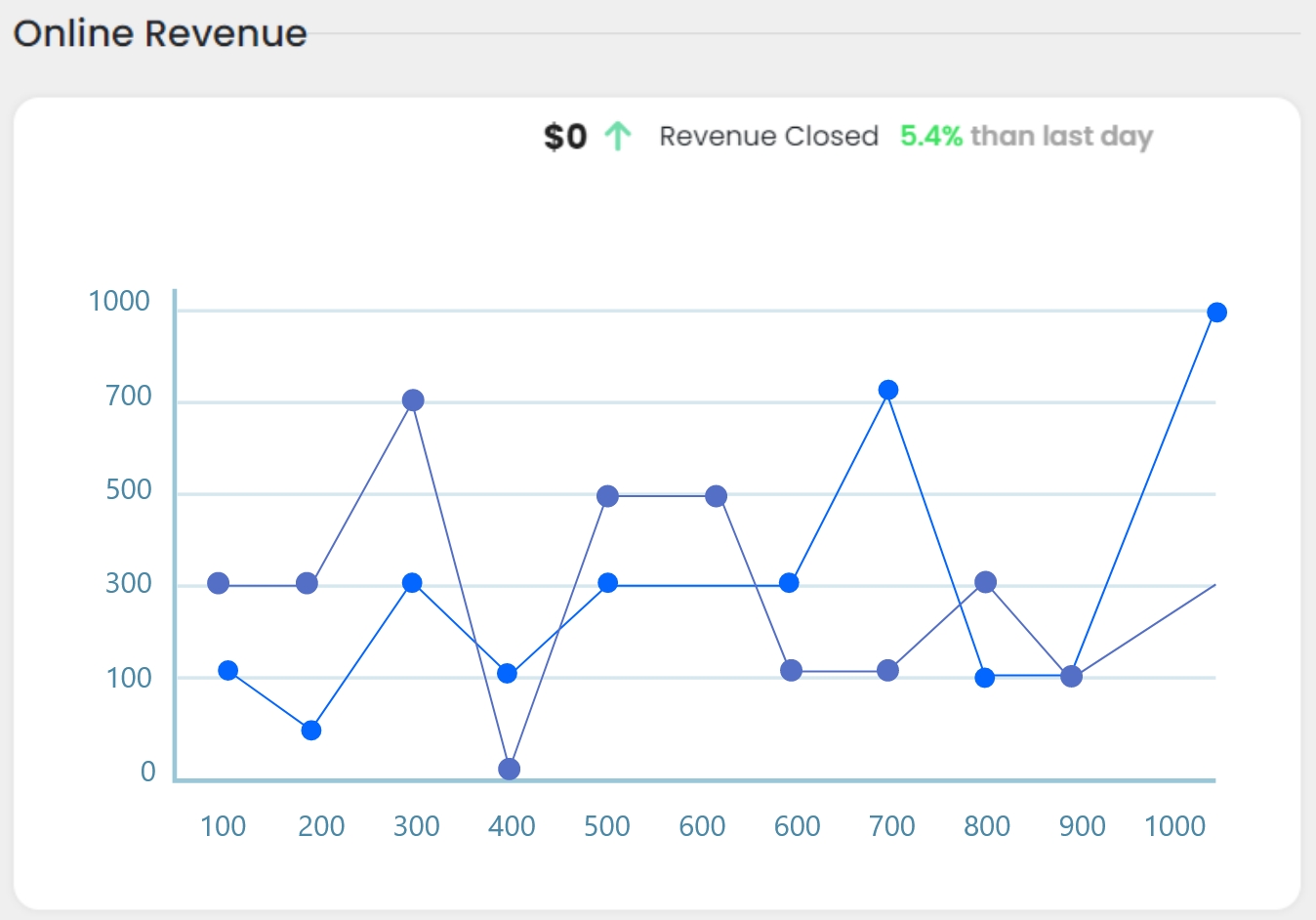 The graph suggests your revenue increment or decrement in the last month. You can see the graph below and analyze your business performance.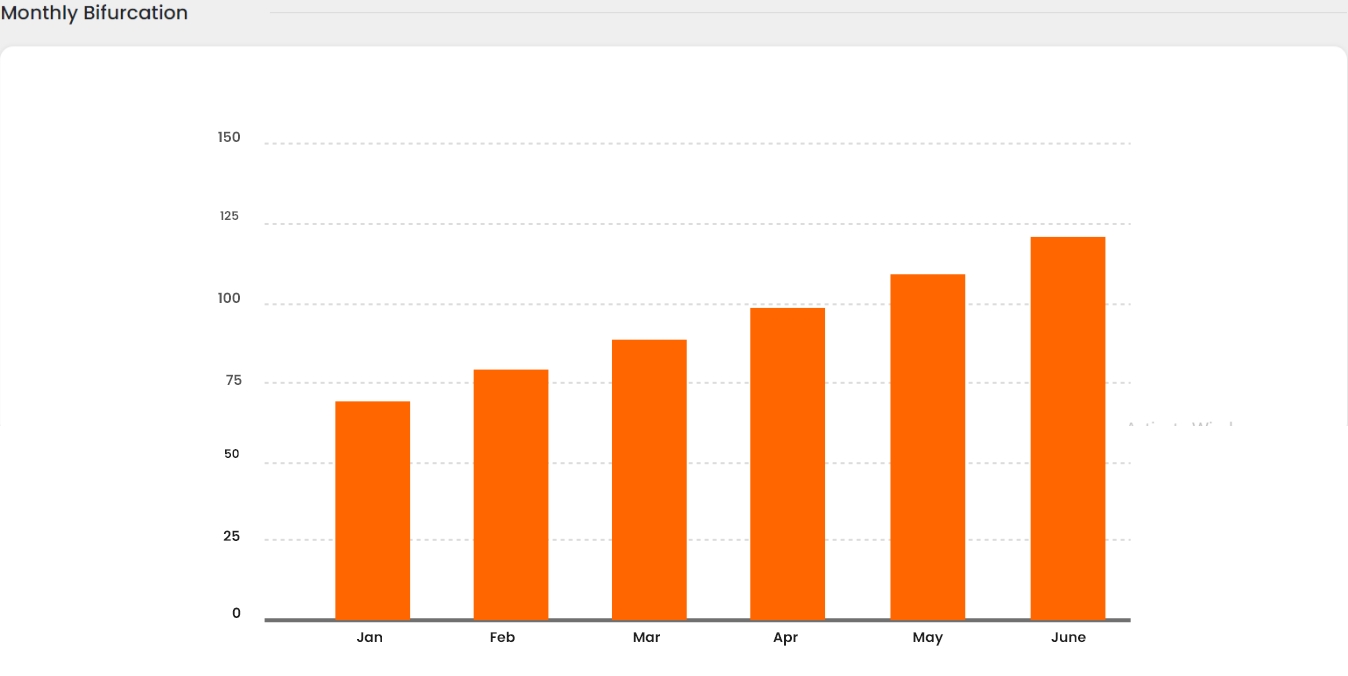 The monthly Bifurcation graph suggests your monthly ups and downs. You can closely look at your profits or losses with the graph representation easily!
# Users
Moving ahead..!
With the User backend, you can see the exact number of users that have onboarded your application with the percentage of users that have increased from the last week.
On the Users tab, you'll find a list of all the individuals that have been added to your instance. This page also serves as a report, as you can use the export button to download a CSV file with people's information.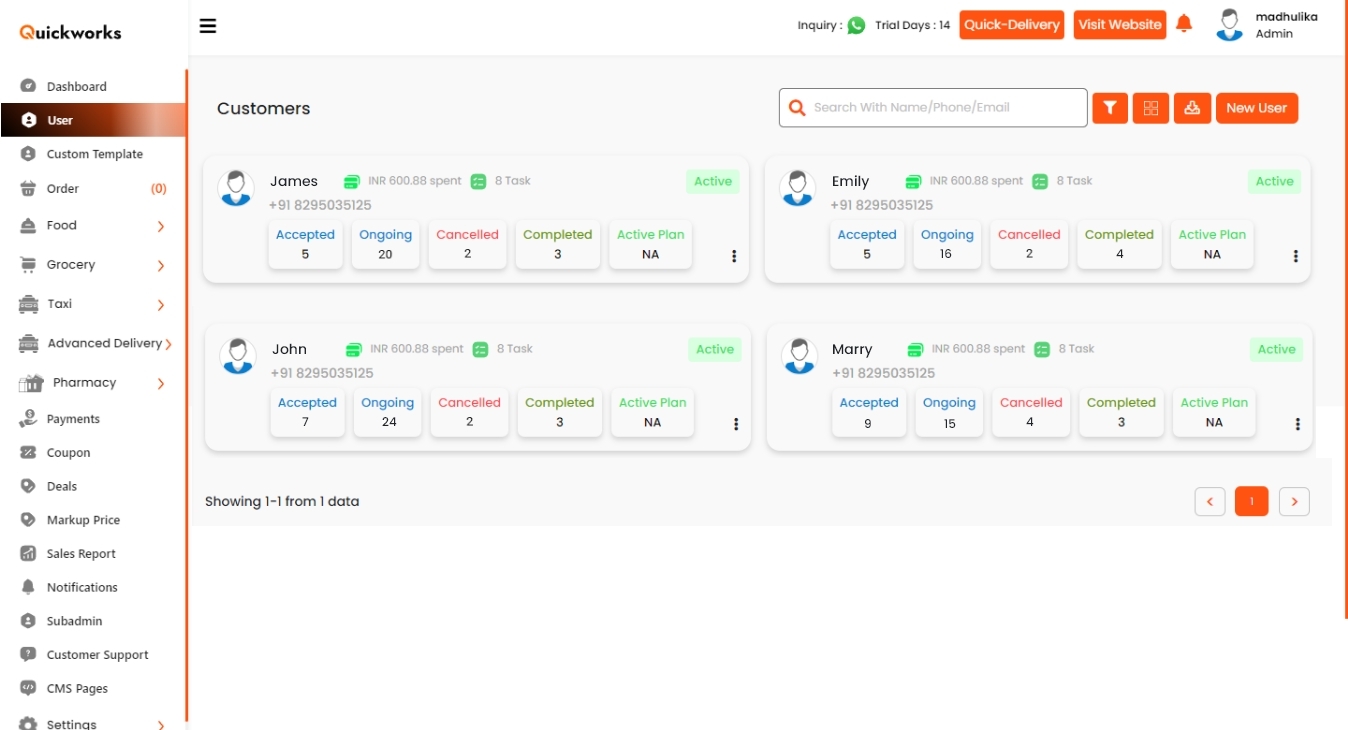 All of the information can be filtered using dropdown menus such as role, account type, status, and manager. For example, if one of your users isn't sure about innovation, you can filter for users who have a status of "Pending."
Admin can import or export customers by adding their Name, Email, Emergency Phone Number, and Wallet Value.
Explore how much a user is spending and how many tasks have been completed on an individual basis. Check out the details of Accepted, Ongoing, Canceled & Completed orders with Active Plans.
# Custom Template
Admins can customize their templates and add new ones whenever a new customer signs up for the app.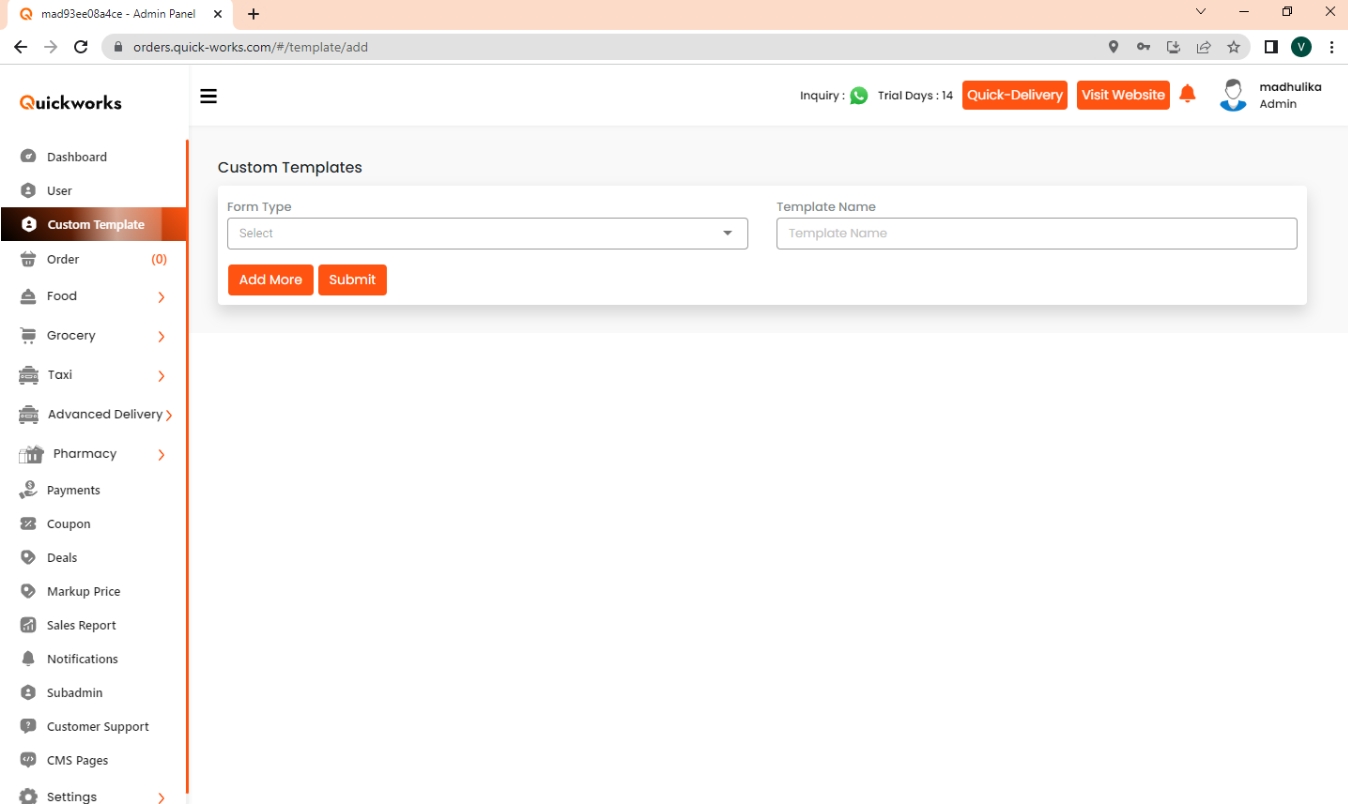 Design the template by filling in the Form Type & Template Name. Now you need to fill out the Field name, Mode, Field Type, and Value. After this, you can either keep the form MANDATORY or Delete it permanently any day!
To Be Continued
When you are getting started, manage all your orders, focus on your customers, and apply processes to ensure those end services are delivered effectively from one place to another. Quickdelivery helps you manage to optimize your delivery routes and gets work done quicker than expected.
In the next blog, we will continue and explain the admin dashboard further.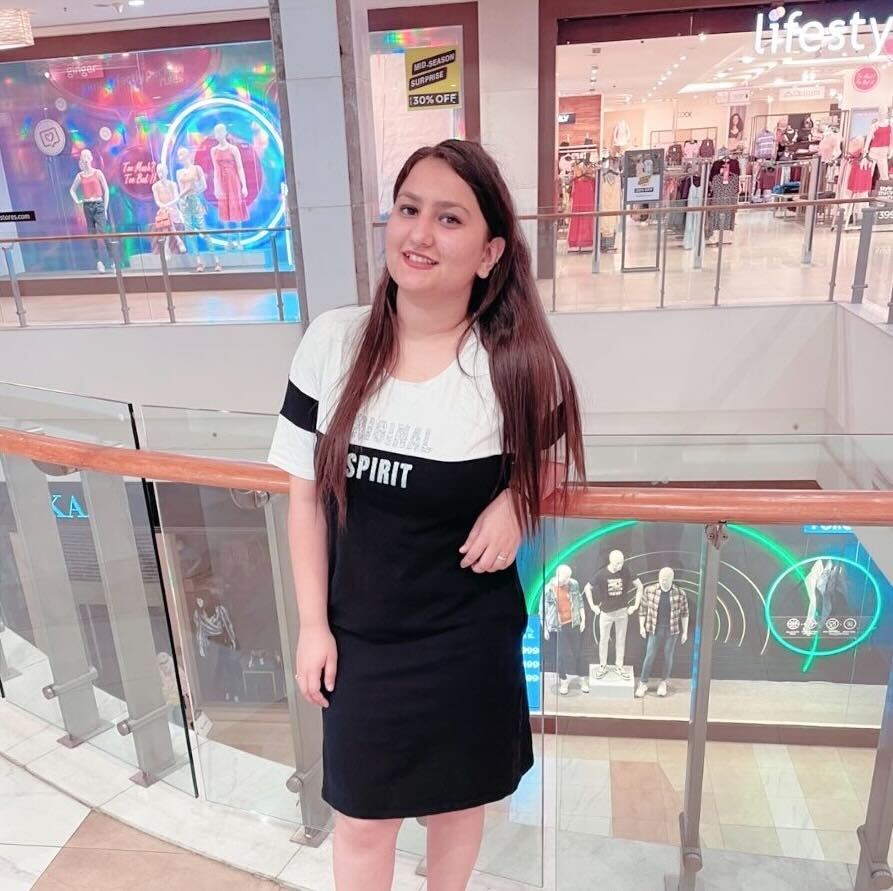 Chubby & Enthusiastic! Proficient in marketing research and statistical analysis. Highly creative with my thoughts about the latest mobile and web advancements. Dwell up the tech world with my glasses :)
Subscribe to Get Search Free
Updates on Upcoming Tech Stories.