Launching Quicksuite: A Multi-Service App To Handle Your Operations in a Breeze!

94 Views

11

min

May 19, 2023

Last Updated: May 19, 2023
Since we live in a digital age, we have grown to rely more and more on different applications with our daily chores and activities. There are mobile applications for practically every facet of our lives, ranging from social media to shopping and payment. The global multi-service app development market size is projected to reach $722.4 billion by 2032.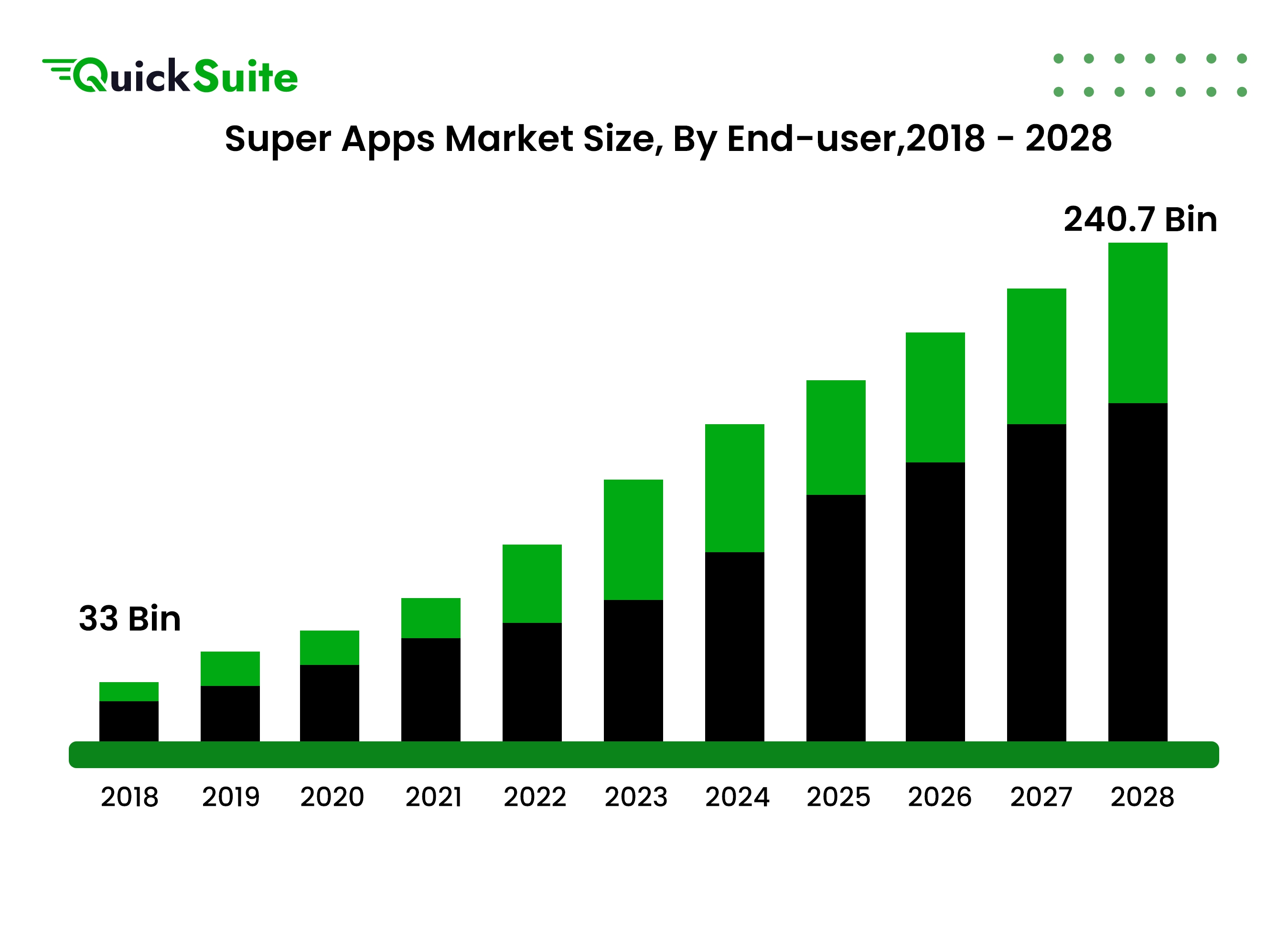 Multi-service apps that can provide every service to customers on a single platform are now the dominant force in this digital ecosystem. Super applications provide a number of solutions for many issues rather than a single goal. Just one application incorporates the majority of clients' needs which makes it an effective and practical alternative. Multi-service apps are now a one-stop shop for convenience, offering everything from grocery buying to food delivery. This market is expanding as a result of rising mobile service adoption and rapid improvements in digital technology. The expansion of this sector with government assistance encourages the use of super applications. Throughout the forecast period, the growth in blockchain technology presents a number of chances for the super app business model market to grow.
What Are Multi-Service Apps: A Detailed Guide with Examples
Multi-service businesses have only recently begun to appear, with Chinese WeChat largely recognized as the pioneer. It first appeared in 2011 as a straightforward chat app, but it gradually changed, gaining a critical mass of users and including new functions until it was almost completely integrated into Chinese modern life. WeChat is used by over 1.2 billion active monthly users for social networking, video games, digital payments, chatting, and more. The phrase "super app"  was first used to refer to WeChat in 2018, and its use has since skyrocketed as rivals and imitators scramble to develop their own platforms. 
Superapps run on a platform that provides many of the services that are frequently found in apps, like messaging and payment. By selecting and downloading their preferred super apps, users can create personalized user experiences (UXs). Super app business models will emerge in the future to support chatbots, IoT, and immersive experiences like the metaverse. It has significantly changed how the worldwide app market is expanding, forcing business owners to consider how much it would cost to create a super app and to take a determined move toward fully embracing the all-in-one app development trend, which offers a guaranteed way to secure overall digital revenue.
Here are a few instances of the top multi-service apps to help you understand how they function and how they aid mobile businesses in achieving unheard-of success.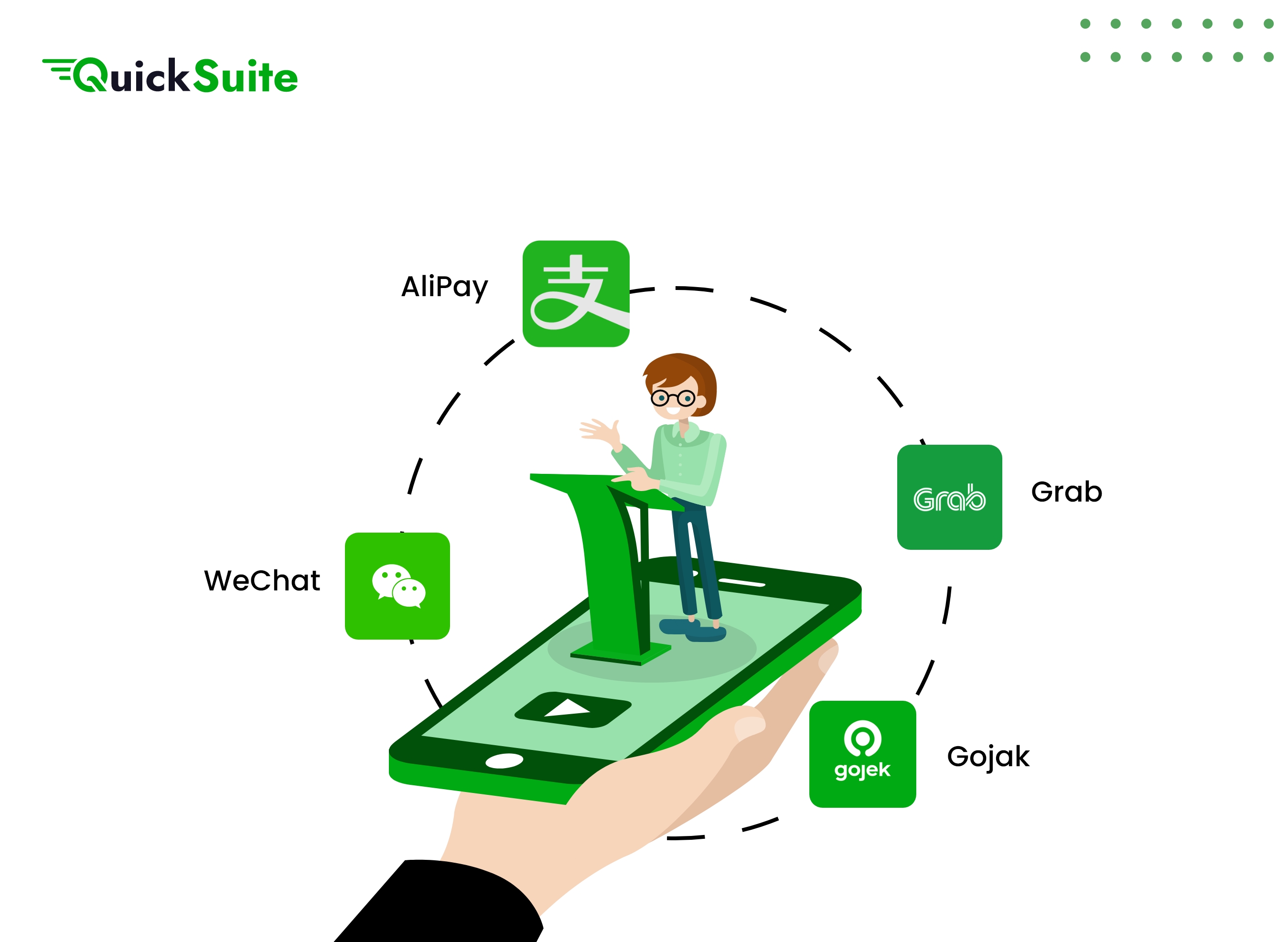 WeChat
In 2011, WeChat, a popular app with a Chinese focus, debuted as a straightforward instant messaging service. Since then, it has developed from a simple instant messaging software to a full-fledged super app that lets users connect (via messages, video chats, and even a function like a social media narrative), pay for goods and services, order food, hail vehicles, make appointments, and buy online. With 1.26 billion active users in the first quarter of 2022, it is currently one of the most popular apps in China. The average user spends nearly three times as much time within the app each day (82 minutes) as Instagram users do (29 minutes), which shows how addictive the service is. WeChat is sometimes cited as the first super app and continues to dominate the Asian markets even as other super apps have gained popularity.
Grab
In Malaysia, Grab launched as a ride-hailing service in 2012. Following some early success as a ride-hailing app, it started providing bike services (GrabBike) in 2014 before expanding into logistics delivery in 2015 and payments in 2016. By providing ride-hailing, payments, food delivery, and other services, it currently rules Southeast Asia. Grab saw an astounding 44% revenue rise from $469 million in 2020 to $675 million in 2021. By the end of 2021, Grab had roughly 27.7 million active monthly users, with Singapore and Indonesia accounting for the majority of its user base.
AliPay
The Chinese e-commerce business Alibaba owns AliPay, which was first developed as payment software for its online shoppers. The concept behind the payment app was to safeguard Alibaba customers from dishonest vendors. However, this multi-service business quickly grew by providing a public utility payment service, allowing consumers to pay their phone, water, and power bills online. AliPay evolved into a super app that supports more than just payments and has over 120,000 lite apps inside the platform as more users downloaded and used the program. By the end of 2021, 90% of Chinese respondents to a survey said they used Alipay.
Gojek
An Indonesian business called Gojek started off in 2010 as a call center that connected customers with delivery and ride-hailing services. It debuted its smartphone app in 2015 and included four services: GoRide, GoSend, GoShop, and GoFood. Gojek set its ambitions on becoming a super app after the initial success of these first four services. Today, it provides services for a variety of markets, including payments and deliveries of food as well as essentials for homes and businesses. Over $10 billion in annum gross transaction value was completed by Gojeck in 2020, and it is currently branching out into other countries like Singapore, Vietnam, and Thailand. Today everyone wants to develop an app Like Gojek.
Factors That Impacted Instant Expansion of Super App Industry
Let's look at the main factors that contributed to the success of super applications to gauge their popularity. It becomes clear that every component that has contributed to the super app development is directly tied to Asian culture. Why therefore have multi-service apps been so popular in China, US and Europe. Let's examine each of the four main factors contributing to the success of super apps in order to uncover the answer.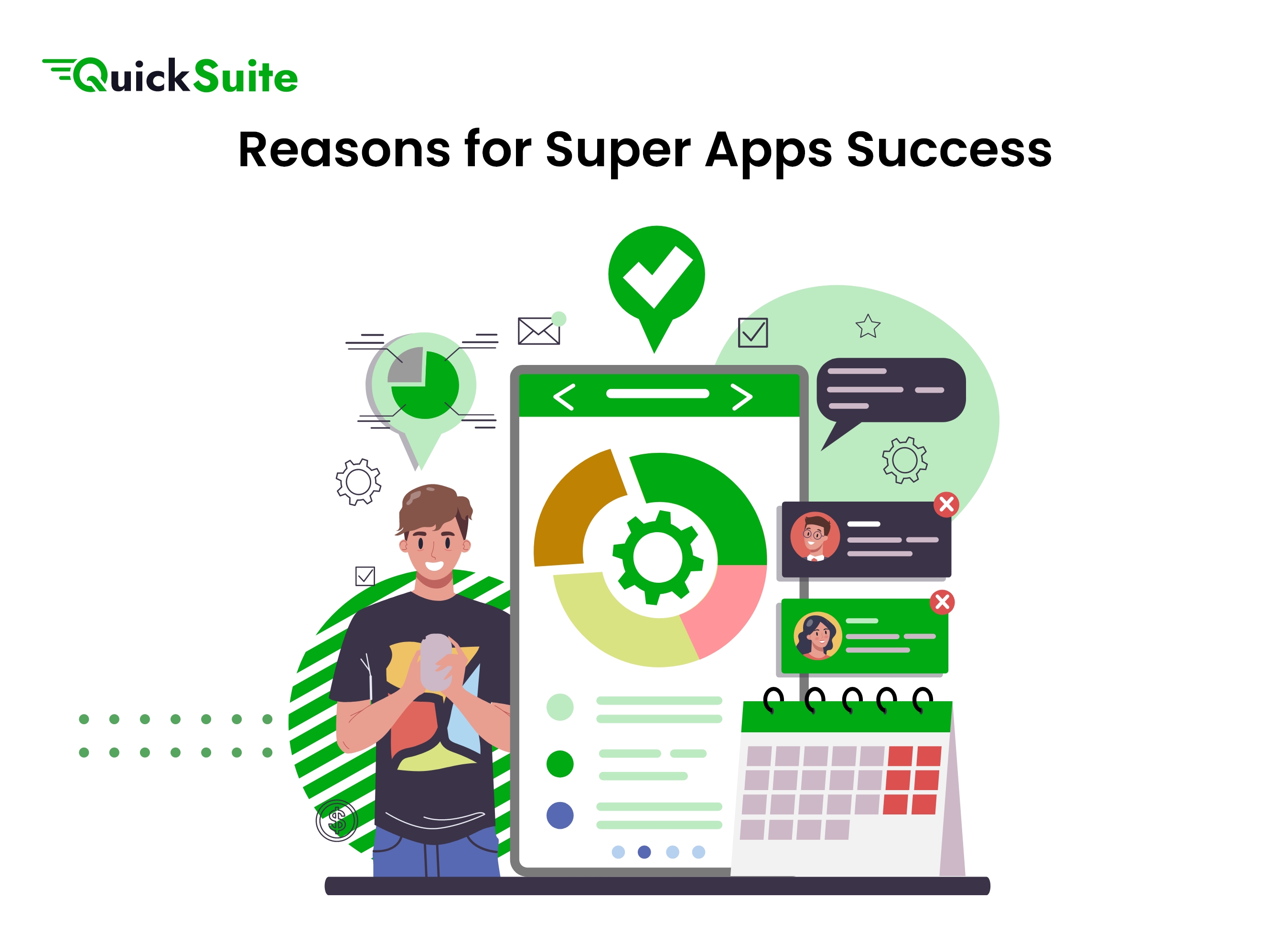 1 Growing adoption of mobile services
One of the key factors influencing the growth and acceptance of mobile services is the mega multi-service business market. Smartphones and other mobile devices are the most common way for individuals all over the world to access the internet and carry out daily tasks. The demand for Gojek-like apps has expanded as a result of the rise of mobile payments and digital wallets, which allow users to complete transactions quickly and easily.
Therefore, it is further projected that the growth in the use of online payments and digital wallets will propel the multi-service applications market. Mobile wallets also give users the flexibility and convenience to swiftly make online purchases, use ATM withdrawals, and send money to others. Mobile payments continue to expand as a result of their rapidity, practicality, and security, which furthers the expansion of supermarkets.
2 Increasing advancements in digital technologies
The primary driver fueling the market's expansion is the rapid evolution of digital technologies like artificial intelligence (AI), machine learning (ML), and cloud computing to enhance optimization. Technology has advanced at a rate never before seen, which has fueled the rise of virtual currencies. Super app business models incorporate a number of functions, including payment processing and transaction management, into a single application. The digitization of previously utilized cash-based payments is advanced by merging messaging and access to other services with payments. Therefore, it is anticipated that such developments would create profitable prospects for market expansion.
3 End-User Adoption
The interest of end consumers in using cutting-edge applications is rising as a result of growing digitalization in super app creation, which in turn propels market expansion. Super apps' user-friendliness, trustworthiness, and security features are the main factors that affect end-user acceptance. While the super applications offer a user-friendly interface that is simple to use and intuitive, allowing users to easily access the app functions they require. By implementing super app development to automate business processes, end users are able to achieve their objectives. 
Multi-service apps are also becoming more and more popular in the banking, financial services, and insurance (BFSI) sector since they provide a variety of financial services and features on a single platform, such as digital payments, banking services, access to investment products, and insurance services. Super applications are therefore becoming increasingly popular in the BFSI sector as a source of digital banking solutions. For instance, in August 2022, NPST introduced a super app for the BFSI sector with the goal of integrating all banking, financial, and transactional services into a single, powerful, and intelligent software to produce a super app with a smooth experience. As a result, these technologies provide a broad range of financial services and features on a single platform, which makes them a practical and effective choice for a large end-user base.
4 Government Initiatives
Regional governments throughout the world are taking a variety of actions to encourage and control the usage of super applications. The government has been advocating a mobile-first strategy to deliver digital services to users in order to increase mobile connectivity and internet access throughout the nation. PayNearby joined the National e-Government Division (NeGD) and the Ministry of Electronics and Information Technology (MeitY)'s Umang in August 2022. to make things easier and strengthen the government's goal of making e-governance in India "mobile first." Overall, these positive government actions are projected to control the usage of Gojek like apps around the world, which is further anticipated to fuel market expansion.
Super applications had tremendous official support that should not be understated in China because the country's leadership was keen to develop methods to interact digitally with its 1.5 billion inhabitants. For instance, the WeChat super app has a good possibility of replacing the conventional ID paperwork. Additionally, the WeChat and Alipay super apps provide access to hundreds of public services. Given the aforementioned factors, it is not surprising that super applications have gained so much traction in Asian nations. Additionally, the digitalization of all processes in the US and Europe will certainly result in the super app trend in these countries as well. 
5 Identical Markets
The majority of Asian nations have a lot of cultural characteristics. This affects the homogeneity of marketplaces, enabling many enterprises to operate in various nations throughout the region and provide consistent services. As a result, the demand for multi-service businesses quickly extended over the entire region, which helped to boost their popularity. KPMG estimates that 73% of Southeast Asia's population lacks access to banking. The area is renowned for handling mostly online transactions. In China, for instance, there are few locations where you can use a credit card, but all merchants accept payments made through the aforementioned super apps WeChat and Alipay.
Asia has the largest and cheapest smartphone market in the entire world. What effect have these factors had on the rise in demand for multi-service apps? The biggest explanation is that users' behavior has been shaped toward installing super apps, which offer a variety of services and offerings in one location because mobile devices used to have a storage space limitation that prevented users from installing several apps. 

Popular Industries Which Use Super App Business Model
Investing in top-notch super app development services has been the best move for organizations in terms of growth and profitability. Additionally, the idea of "super apps" has drawn a lot of interest from an audience that uses a variety of services, which has been the main convenience factor. Do you want to learn how different industries are making use of super apps? Continue reading to learn more-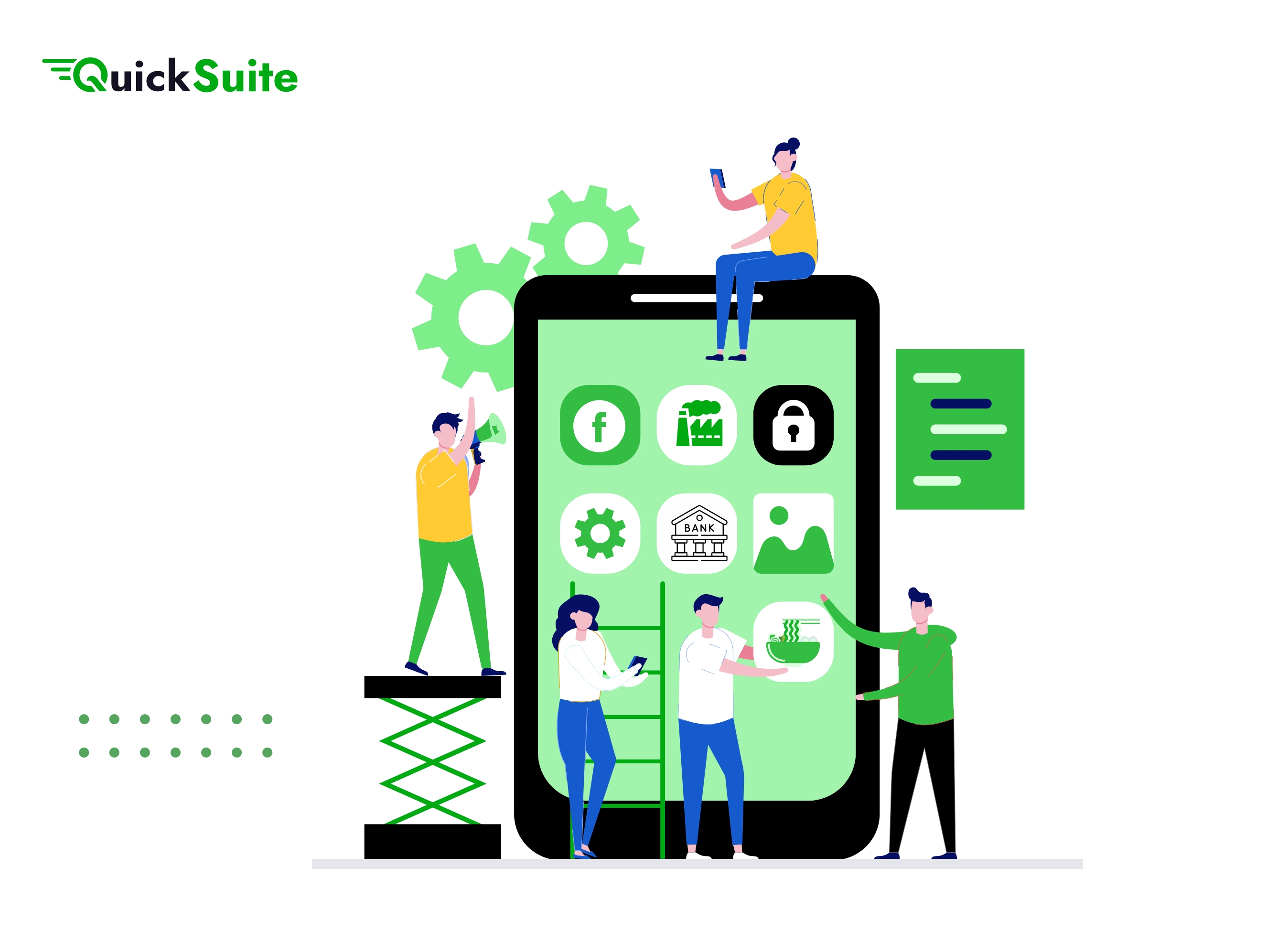 People's lives now revolve around social media, and many really prefer to engage with one another through this medium rather than in person. It has grown to play a crucial role in our lives and is now everyone's go-to method of communication. Here, a social network app development business created a super app that includes all the capabilities, including texting, audio and video calling, sharing files in various formats, payment, and more. That's WhatsApp! 
The food delivery super app makes it easy for customers to purchase meals online and have it quickly delivered to their door. Here, the super applications give customers access to all-in-one capability so they can easily pick a location, add things, send instructions, and make payments. Users don't have to open any additional apps to check reviews, the food menu, the location, or to make a payment for their order. Gojek, Rappi, Alipay, Yandex Go, and other popular meal delivery apps are just a few examples.       
Banking and Finance Industry
To provide consumers with all the amenities in one location is the primary motivation for most organizations to develop an app or super app for the banking and financial sector. Super app creation services have expanded to the banking and financial sectors, enabling users to open or close bank accounts, create or access checking account statements, and much more. In other words, consumers may now do financial transactions and bank-related chores entirely within the app. Alipay, Snapp, Omni, Tata Neu, and other well-known banking and finance multi-service apps are only a few examples.  
Super applications are advantageous for users in the eCommerce sectors since they enable quick access to all app functions with a single login. They simply need to submit their financial and personal data once. Multi-service businesses today have the choice to build an eWallet app and include credit/debit cards, UPI, etc. to simplify the payment process. Users can quickly make payments after purchasing products and things online. All duties are completed with ease. Super eCommerce apps include Amazon, Flipkart, Etsy, Alibaba, Gojek, Tata Neu, and many more. Create a fantastic Gojek like app for your company if you want to launch an eCommerce business and get the rewards.    
Transportation & Travel Industry
The market for travel and transportation is also being covered by on-demand mega app creation services. Here, users of the program can purchase bus and airplane tickets. It functions similarly to a taxi app like Uber in that users can reserve a ride or, if they have a limited budget, share a cab with another person. Users can also receive unique offers, promotions, and rewards on their subsequent bookings by consistently using the app. Uber, ola, RTA Dubai, Snapp, Rappi, Tata Neu, and other well-known travel and transportation mega applications are just a few examples.  
Start your dream project with us!
Super Apps are a novel concept in the West. Online businesses and Internet consumers already rely heavily on these types of apps for their daily needs in South America and Asia. Super Apps are anticipated to become quite popular in the US and Europe very soon. That's mostly because they provide businesses and their clients with a number of benefits. Super applications have completely changed the worldwide app market. In order to create a super application that can provide customers with a flawless experience, you must work with a skilled mobile app development company. Super applications are one-stop solutions for numerous on-demand services.
Although the aforementioned businesses (Gojek, WeChat, Alipay, etc.) have shown it's not impossible, super app development is no easy task. In reality, many of these businesses succeeded in creating world-class apps. However, because each of these businesses was already a leader in a certain industry, it was simple to provide a similar service to their current clientele. So creating a strong brand in one industry, providing a fantastic user experience, and then preserving that experience as the business grows seem to be the keys to launching a multi-service business.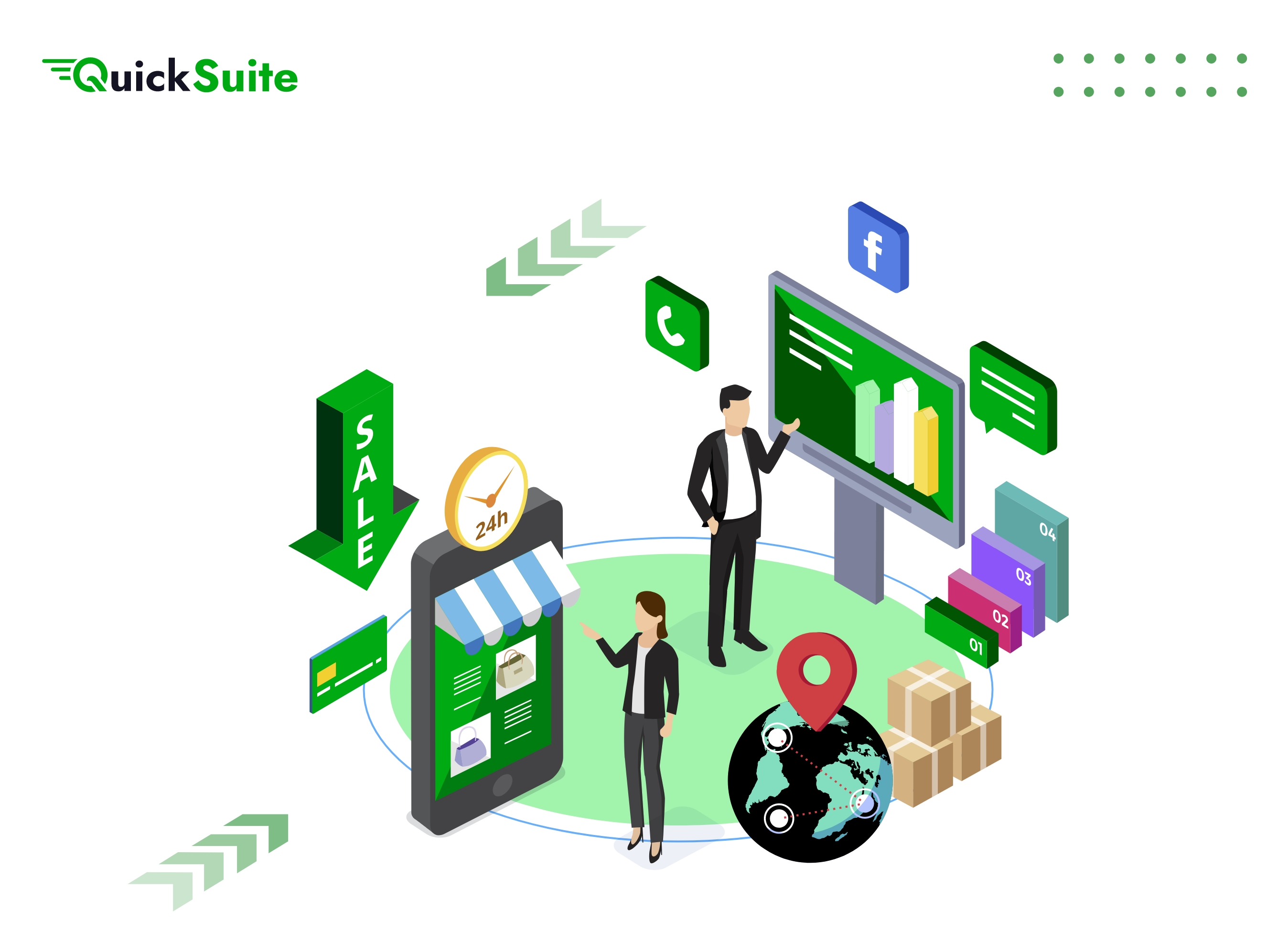 We're here for you-
With the super app business model, businesses can avoid making additional sizable investments in product development by making a one-time investment in a Super App solution. In addition, they can considerably increase their consumer base while offering their users an app that contains all the services they require and delivers exceptional experiences. There may be chances for super applications in the B2B industry since the majority of them are now found in the consumer sector. Quickworks takes pride in having collaborated with some of the most reputable brands in a variety of sectors. We'll be there for you through every stage and provide continuous support for your multi-service app.
Frequently Asked Questions(FAQs)
Super App is a one-stop shop that offers a variety of services from many providers. The super app handles many of the functions of several other mobile applications, saving users time and effort by eliminating the need to switch between apps to complete activities. Super apps need to stand out from the competition and be technologically advanced in order to succeed in the market. It must offer a fantastic user experience through a variety of services, a reliable marketplace, the ability to update the app and other factors. It will make your app a tremendous hit in the market while keeping it competitive and modern.
The degree of communication between a super app development firm or development team and the client they are working with determines how simple super app development will be. Market research and business strategy will be followed by design and development, testing, and launch. To make the super app effective and easy to use, numerous sophisticated features and functionalities, third-party APIs, analytics & tools, etc. will be implemented.
Gojek, Rappi, Alipay, Tata Neu, Omni, and other prominent mega applications are only a few examples. All of these have a sizable customer base and offer the finest user experience in the industry, a wealth of online services, a uniform marketplace, and maximum income & profits, among many other things.
The length of the super app development process might vary depending on a number of variables, including the development team, the addition of security measures and functions, and many more. Additionally, building an app's UI/UX, which is crucial for capturing users' attention, takes time. A mega app typically takes 6 to 10 months to develop.
Absolutely, yes. People are currently looking for apps that can offer them all the features they need together with complete assurance of security. Therefore, this would be a good moment to create a scalable super app with functionalities and on-demand security. The result will be a significant return on investment (ROI) and a sizable customer base.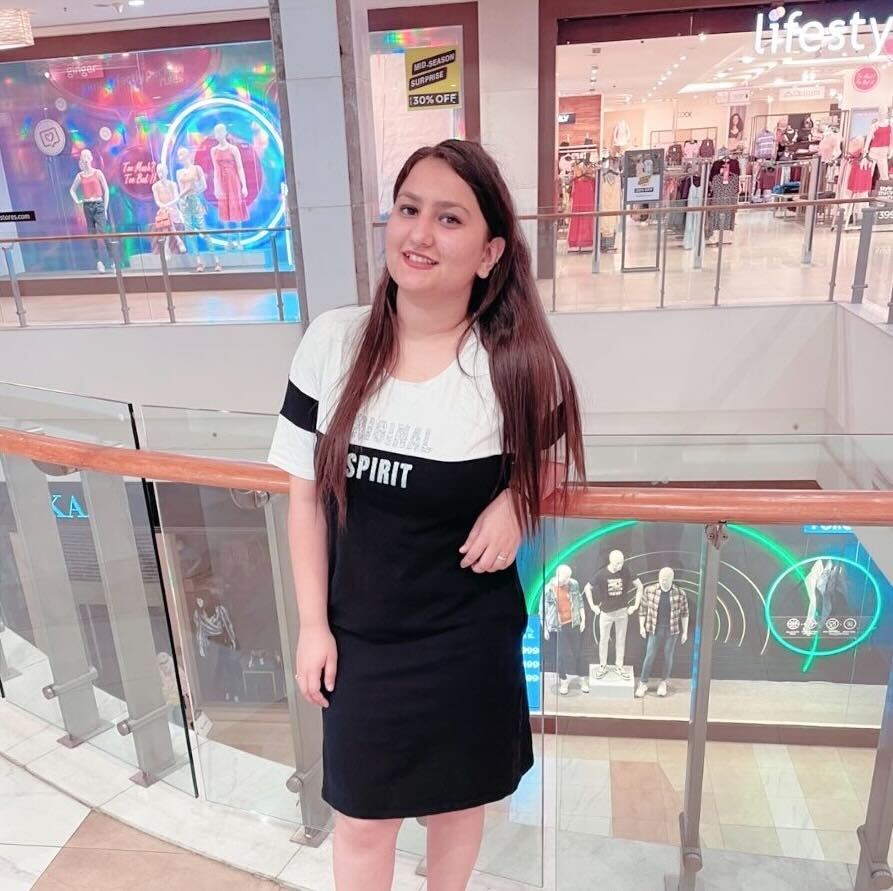 Chubby & Enthusiastic! Proficient in marketing research and statistical analysis. Highly creative with my thoughts about the latest mobile and web advancements. Dwell up the tech world with my glasses :)
Subscribe to Get Search Free
Updates on Upcoming Tech Stories.