How to Start a Liquor Delivery Business: Startup Success Guide!
64 Views

6

min

August 8, 2023

Last Updated: August 8, 2023
Online sales are the new norm, and the alcohol business has recently joined in. The alcohol sector was one of the most lucrative ones even under COVID-19. In 2017, the global liquor delivery business market was worth more than $1,438 billion, and by 2025, it is expected to reach $1,684 billion. The eCommerce retailers help the alcohol sector satisfy the rising demand. Customers can purchase the products from online liquor outlets. Consequently, one of the most lucrative enterprises nowadays is starting an online alcohol store.
Have you also wondered how to start online liquor delivery… if yes then this blog is just for you! To assist you in starting your own on-demand alcohol delivery service, we have put together a thorough guide that covers everything from what licenses and permits to apply for, tips/tricks, and more. Here is a step-by-step manual for starting a liquor business with delivery management software. Scroll down to find out more!
Top Alcohol Delivery Services in 2023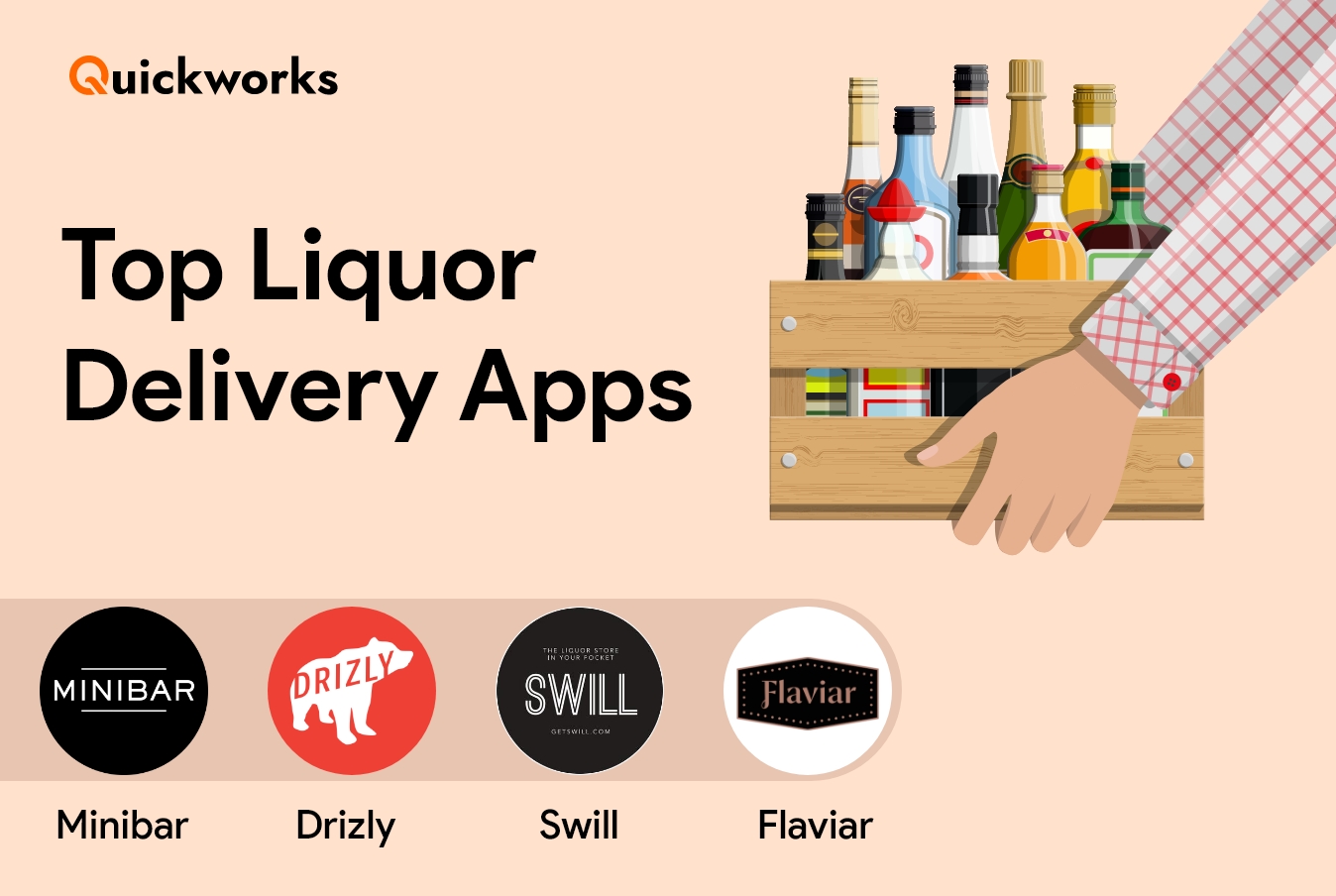 The increase in the worldwide young adult population and a rise in consumer demand for high-end goods are the main drivers of the expansion. The alcohol market has seen a substantial increase due to the same factors. Just in those 16 countries, the alcohol delivery app market is projected to be worth more than $42 billion by 2025. International Wine and Spirit Research predicts that by 2024, the combined value of the alcohol delivery app industries in 10 different countries, including the United States, will exceed $40 billion. According to research, 28% of millennials think it takes too much work to go out and buy drinks from a local store, while 47% prefer to drink at home.
IWSR reports that over three-quarters of US consumers would rather pay a few dollars more to order drinks online than go to a nearby store. These patterns indicate a shift in customer behavior that is clearly generating growth in the on-demand alcohol delivery business.
Drizly
Alcohol can be delivered more easily thanks to Drizly, an online marketplace for alcohol. Through a smartphone app or website, Drizly enables users to order a selection of beer, wine, and spirits from nearby merchants and have them delivered right to their location.
Minibar Delivery
Minibar Delivery is a New York City-based online alcohol delivery service that provides on-demand delivery in more than 50 American locations as well as shipping to 40 states. Lara Crystal and Lindsey Andrews started it in 2014.
Swill
Swill is an online delivery service that lets customers browse and purchase a variety of alcoholic beverages.
Flaviar
Flaviar is a subscription service that aids members in learning about new alcoholic beverages through sample-tasting packets.
How to Start a Liquor Delivery Business in 5 Steps?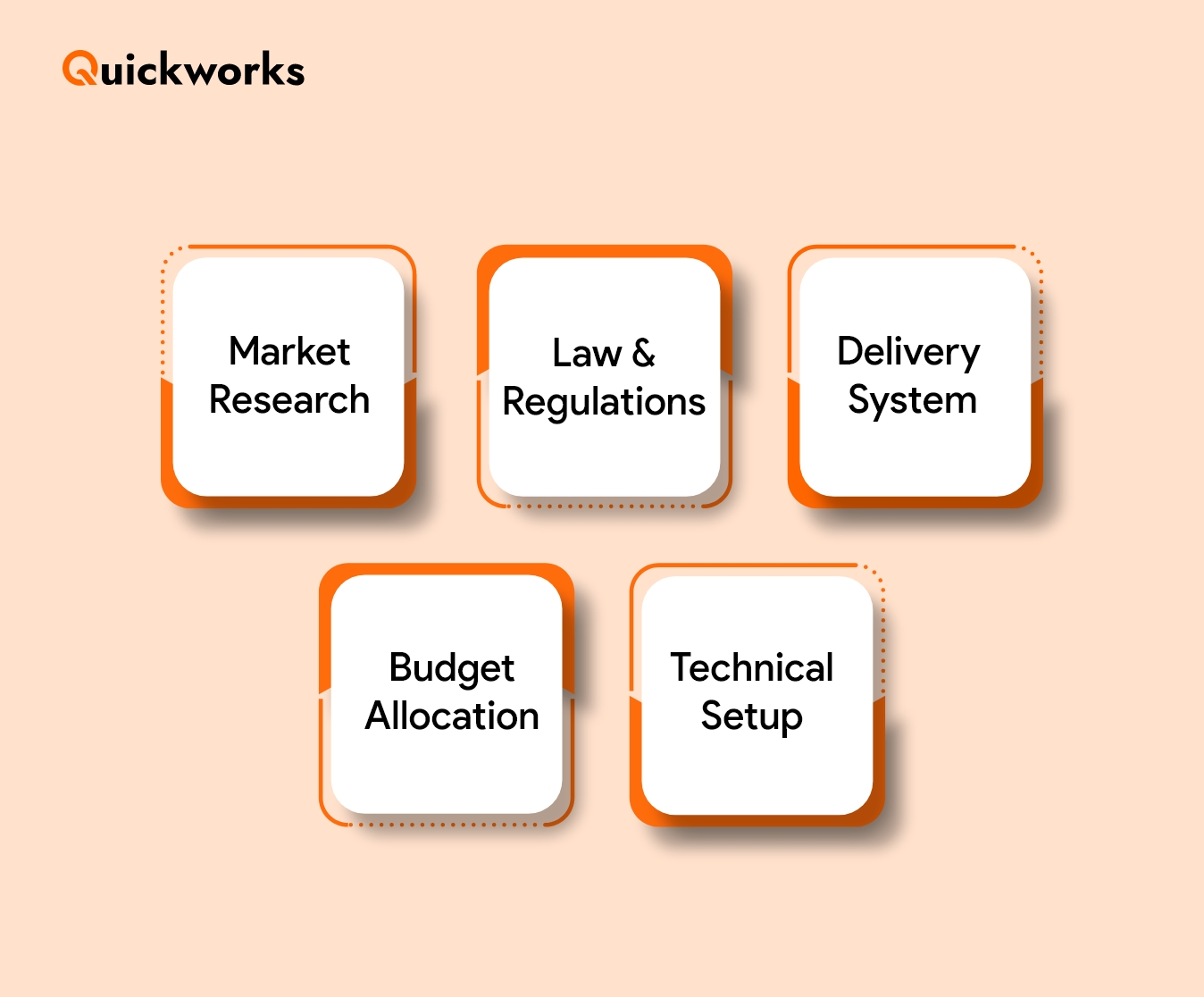 1Ensure Your Liquor Delivery Business Is Lawful
You probably have a thorough understanding of the state and local regulations governing the alcohol delivery industry. It is time to verify the specifics if you are unsure. In order to temporarily suspend their prohibitions on local beer and wine deliveries, a number of U.S. states that normally do not allow them made emergency declarations in 2020, albeit they may have since expired in some locations. Additionally, the kind of license your business holds may have an impact on your capacity to deliver. For the most recent information, see your state brewers guild, recent legislative news, and state alcohol regulating agency. Also keep in mind that in most states, it is illegal to export liquor delivery online across state boundaries. Many of these limitations are still in force.
2Create Ordering Sequence
Deliveries are a very different story from curbside to-go purchases, which are simpler to manage. To arrange deliveries, you'll need to keep track of these requests, so having someone take them over the phone and manually prioritize them is not an effective technique. You may quickly build up online ordering sites with your available products and pickup/delivery choices using systems like Square, Commerce7, and Arryved, giving you a streamlined approach to accepting and processing orders.
3Set up the Delivery System
Choose whether you'll make deliveries using your own crew or a third-party provider. For direct-to-consumer delivery, many craft manufacturing companies have chosen to use their own employees. However, if you already work with a third-party app like Grubhub, Postmates, or Uber Eats, you could opt to remain using their delivery management solutions and have your personnel on hand for curbside orders and work-related tasks. Whatever choice you make, keep in mind that providing delivery creates a possibility for consumer dissatisfaction with the good or service. Plan how you will respond to complaints.
4Decide a Budget
Establishing a budget is one of the most important things you can do when starting your own alcohol delivery business. You must be aware of the financial requirements for operating a profitable firm. The price of purchasing alcohol from a wholesaler and then selling it at retail pricing should be reflected in your budget. You must also account for any additional costs, such as licensing and insurance. You must factor employee pay into your operational costs if you intend to hire staff. Choose the source from which you will purchase your goods. There are many different vendors to pick from but keep in mind that not all of them are created equally. Before making any decisions, you should conduct your research because some may provide better terms than others.
Additionally, think about selecting local suppliers who can provide timely delivery of goods when required.
5Become a Market Pro
Knowing your market is crucial when launching a new liquor delivery business. What are your rivals up to? How do they stack up against you? What can you do that they can't? It's time to determine how your business differs from those of your competitors now that you are familiar with them. Why should buyers choose you over competitors and what sets you apart from the competition?
Develop ways to address the problems that your customers face. Build an on-demand alcohol delivery app to offer your customer a selection of options, such as a subscription model, and provide exclusive promotions.
6Create a Dedicated Alcohol Delivery App
Your website will be your consumers' first point of contact with you. It is the initial location where consumers can discover more about your company, browse its offerings, and get a sense of your brand. To make a great first impression, make sure your website is well-kept and professional-looking. A page's viewers may become distracted from reading crucial content if you use too many images and colors. Additionally, the website needs to be mobile-friendly so that users of smartphones and tablets can readily access it.
If you're planning to launch your own liquor delivery online business, creating an app that allows consumers to place beverage orders from their smartphones or tablets is one of the first things you'll need. Although there are several apps that let users buy things using their mobile devices, they are not specifically made for this. They might not meet your requirements in terms of functionality or design as a result.

Must-Have Features for Your Alcohol Delivery Application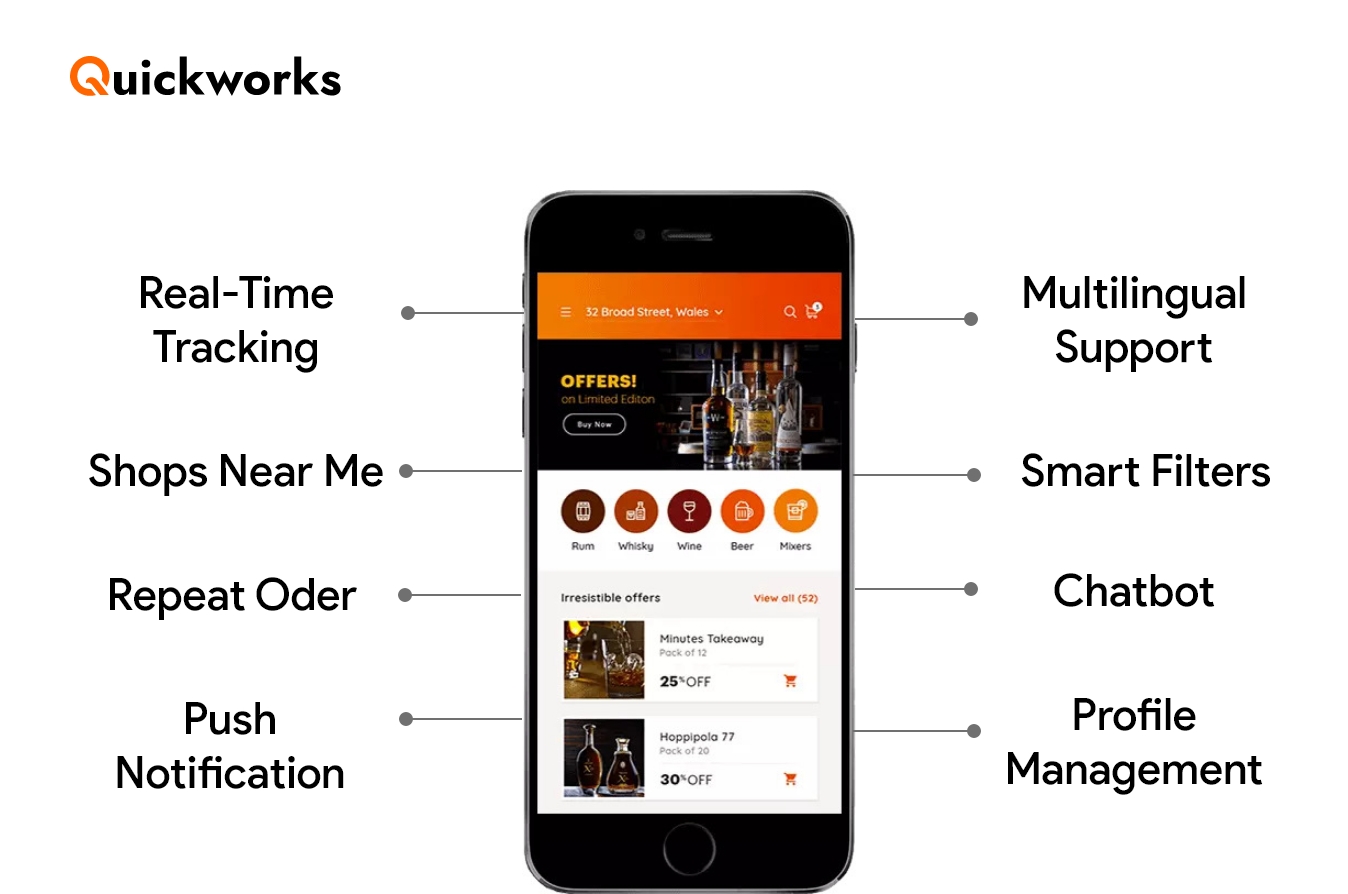 User profile
Your app should allow users to sign up or log in using an email and password, just like any other on-demand delivery service.
Search
This feature enables users of your app to browse your app's product listing.
Filters
Users can select from a range of alcoholic beverage categories, price points, and customer reviews using the filters, among other things.
Shopping cart
Your consumers have the option to add or remove bottles from their cart before placing a purchase right away or later.
In-app purchase
Paying bills is certainly necessary! Not only do alcohol delivery apps not require an in-app payment system, but also a multi-payment method.
Order monitoring
Your consumers want to have their preferred beverages delivered as fast as possible, the ability to track delivery times is also crucial.
Support for multiple languages
For an alcohol and online liquor marketplace wanting to develop into the global market, language-specific material is necessary. This capability enables business owners to promote their goods internationally.
Chatbot
Users will benefit from chatbot integration by having access to information about orders, projects, and promotions, among other things.
Quickdelivery: An AI-Powered Delivery Management System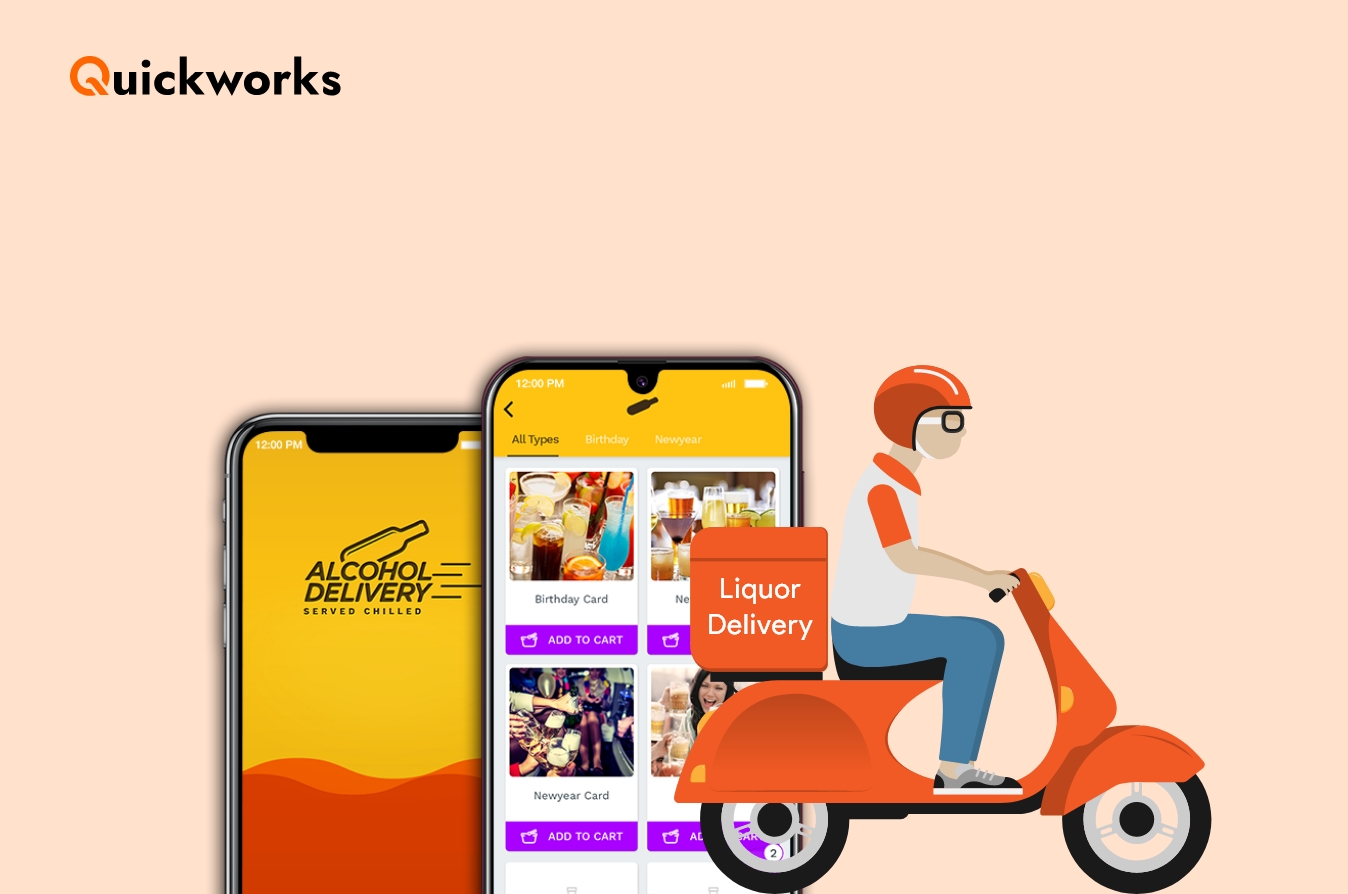 We want to make it possible for liquor delivery businesses to manage their deliveries effectively while also assisting them in lowering costs. Businesses of all sizes will be able to manage their delivery fleets and assets through a single interface- Quickdelivery. This solution makes it simple to get information on shipments, allowing businesses to decide how they want to manage each one based on its status, destination, etc. Don't worry about how to start online liquor delivery, we have got your back!
Here are some features that we offer-
1Tracking and Delivery of Orders
Customers can use the tracking number printed on their packing slips or provided in their shipment confirmation emails to follow up on their orders with Quickdeliver. Additionally, it enables you to notify customers when their orders have been sent, delivered, or returned.
2Route Optimization
The route automation technology efficiently plans and automates routes while in motion. It accounts for customer delivery windows, driver schedules and rest periods, and traffic while determining routes. Simply moving the collection and delivery spots will allow you to edit the routes according to priority.
3Evidence of Delivery
It's crucial to gather proof of delivery in order to make distribution seamless. It improves order accuracy and prevents issues with customers. With Quickdelivery by your side, delivery agents can retrieve proof of delivery. Barcodes, signatures, photographs, and OTP are a few examples of different proofs of delivery.
4Effective Integrations
To manage your deliveries, you can connect your ERP, CRM, order administration, payment gateway, and other useful tools. Shopify (order processing), Stripe (payment gateway), Google Maps, and Waze (navigation) are a few well-liked integrations.
Get the top features of an alcohol delivery app with Quickdelivery management software and serve your customers with ease. Request a free demo to learn more about our liquor delivery management solution today!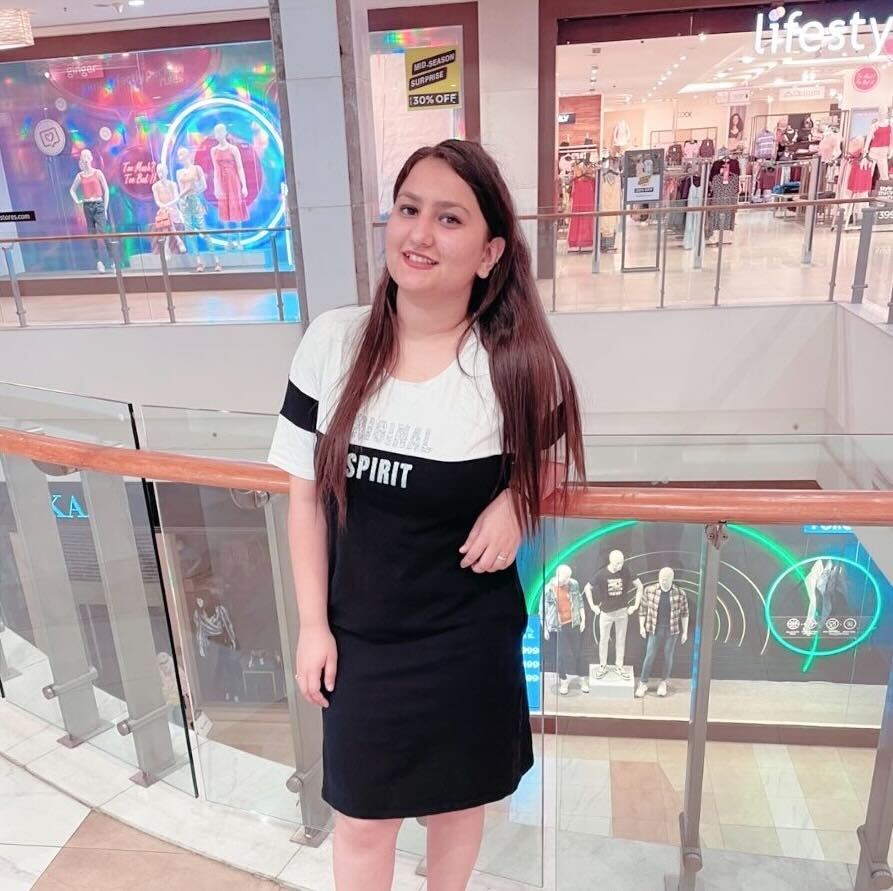 Chubby & Enthusiastic! Proficient in marketing research and statistical analysis. Highly creative with my thoughts about the latest mobile and web advancements. Dwell up the tech world with my glasses :)
Subscribe to Get Search Free
Updates on Upcoming Tech Stories.