How to Build a Successful Home Service Business From Scratch?

44 Views

10

min

September 13, 2023

Last Updated: September 13, 2023
In recent years, the home service industry has experienced remarkable growth. As homeowners and busy professionals seek convenience, the demand for services that cater to their needs within the comfort of their homes has surged. You've come to the perfect place if you've been thinking about beginning a home services business.
The home service sector offers a wide range of products and services to meet the demands of homeowners and those looking for ease in their hectic lives. The options in this sector are numerous and range from cleaning, landscaping, and pet care to plumbing and electrical labor. We'll show you how to launch and run a profitable on-demand home services business utilizing order management software in this in-depth manual.
The Booming Online On-Demand Home Services Market
The home service industry is booming, and it's no wonder why. If you're considering entering this industry, you have a fantastic opportunity ahead. But how can you ensure that your home services business runs efficiently and delivers top-notch service to your clients? The answer lies in leveraging modern technology, specifically order management software.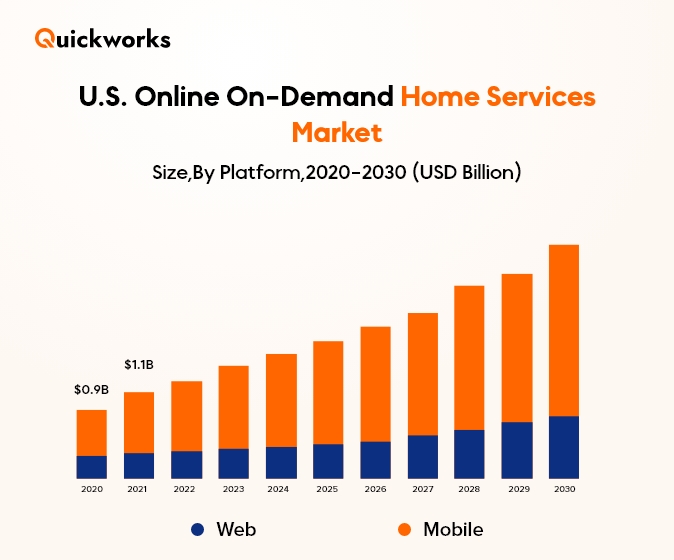 Source- https://www.grandviewresearch.com/static/img/research/us-online-on-demand-home-services-market.webp
The home service sector includes a broad range of services that are designed to meet the demands of homeowners and other people who want convenience in their homes. The need for on-demand home services apps, whether they involve plumbing, electrical work, cleaning, landscaping, or personal care, is only increasing. The home service sector has seen impressive growth as individuals value their time more and hire professionals to complete activities that they once attempted on their own.
The diversity of the home services sector is what sets it apart. It covers personal care, home upkeep, repairs, and renovation services. Opportunities for entrepreneurs to launch prosperous home service businesses with order management software expand along with the sector.
How To Launch Your Home Service Business: Step-By-Step Guide
Now that we've set the stage, let's move on to the critical steps to start your home service business.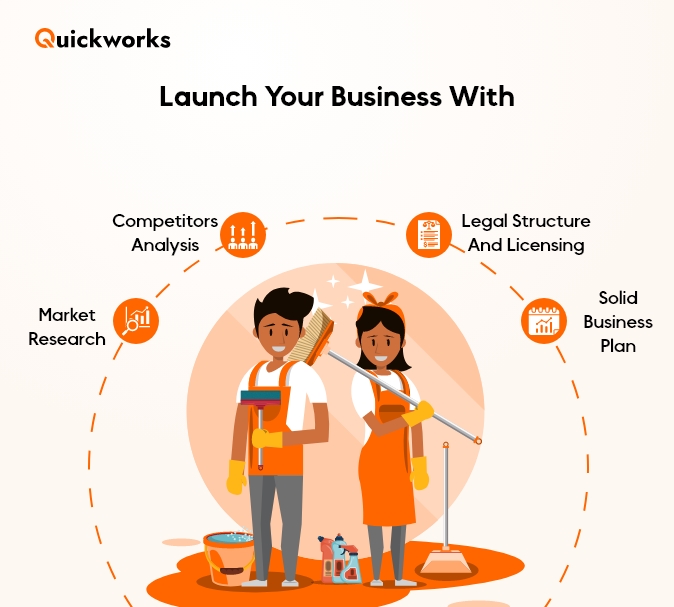 Market Research
After selecting your specialty, do extensive market research to determine how much demand there is for your products or services. Key research procedures include:
Find out the qualities and demographics of your potential customers. Are they businesses, tenants, homeowners, or a combination?
Analyze your neighborhood's rivals. Find more about their advantages, disadvantages, pricing plans, and feedback from clients.
Determine the costs of your services, including labor, supplies, hardware, and overhead. Calculate profitable pricing while maintaining competition.
Keep abreast of market developments and new technologies that may affect your company. You can innovate on-demand home services app and adapt with the aid of this expertise.
Take into account the region you intend to serve. Are your services more in demand in any particular areas or neighborhoods?
Recognize the legal prerequisites and licenses required to operate in your region. Regulation adherence is essential for a profitable home service industry.
Competitors Analysis
Building a profitable home service company requires having a thorough awareness of your rivals. Here's how to evaluate your rivals:
Make a list of local companies that operate in your niche. Include both direct rivals who provide comparable services and rivals who provide alternatives in your list of competitors.
Analyze the advantages and disadvantages of each rival. Consider variables including service caliber, cost, client feedback, and market reputation.
Examine your competitors' pricing tactics. Are they renowned for providing affordable services, expensive services, or a combination of both?
Analyze competition ratings and reviews from customers online. Pay attention to recurring issues or areas where rivals shine.
Find out how you can set your company apart from the competition. Offering distinctive services, top-notch client support, or creative solutions are a few examples of this. You'll be well-prepared to continue with the planning of your home service business once you have a firm grasp of your niche, market demand, and competitors.
Craft a Solid Business Plan
Your home service company's success depends on a solid business plan. It acts as your road map, assisting you as you progress past the initial stage. a succinct synopsis of your company's mission, vision, and objectives. Information in-depth about your home service business, such as the market niche you've chosen, your standout selling point, and the issues your solutions help clients overcome—a thorough examination of your target market's characteristics, market developments, and competitive environment.
Find out the ownership, ownership rights, and positions of important team members or partners in your company. Your strategy for locating and obtaining clients. This should cover sales techniques, conventional advertising, on-demand home services app, and marketing. Describe your funding needs and your strategy for getting them if you need funds or investment.
For at least the first three years of your business, provide detailed financial predictions, including income statements, cash flow statements, and balance sheets. any more information, such as market research results, the resumes of your key team members, or legal documents, that support your business concept. A well-written home services business plan is a useful tool when looking for funding or investment because it not only aids in the clarification of your business concept.

Legal Structure and Licensing
You must select a legal structure for your home service company and acquire all the licenses and permits before you can begin operations. Small home service firms frequently use sole proprietorships, partnerships, LLCs (Limited Liability Companies), and corporations as their legal forms of organization. Selecting the structure that best meets your company's goals is crucial because each one has benefits and drawbacks.
The next step is to learn more about the local licensing and permitting procedures. Depending on your area and the services you want to provide, regulations can change dramatically. To prevent future fines or legal troubles, it's essential to learn about and abide by all legal obligations. A legal expert or your neighborhood business authority may be able to advise you on the precise licenses and permits you require.
Common licenses and permits for home service businesses may include:
Business License: For all home services businesses operating within a particular city or county.
Professional Licenses: If your services require specific skills or qualifications, you may need professional licenses or certifications. Examples include plumbing, electrical, or HVAC licenses.
Home Occupation Permit: If you'll be running your business from your home, you may need a home occupation permit or zoning clearance.
Sales Tax Permit: If your state or locality imposes sales tax on services, you'll need a sales tax permit to collect and remit taxes.
Trade Permits: For businesses that perform specialized work like construction or landscaping, trade permits may be necessary.
Financing Your Venture
An essential part of the launch process is securing financing for your home service business. A typical method of financing a small business is to use your personal funds or investments. Although it implies a personal financial risk, this alternative offers total ownership and control. The required funds may be obtained through personal loans, lines of credit, or small business loans. Become familiar with the loan choices provided by banks, credit unions, and online lenders. You can look for investors or venture capitalists who have faith in your business idea for sharing ownership and earnings.
Using online channels for crowdfunding, you can collect tiny contributions from a lot of people. This may be a successful strategy for raising money and expanding your clientele. Grants are provided by several organizations and government entities, and they also hold business competitions with cash awards. Investigate business options in your sector or locale. Select the funding strategy that best suits your company's objectives, risk appetite, and long-term outlook. When looking for outside finance, be ready to have a strong home services business plan because lenders and investors will want to evaluate the feasibility of your idea.
Now, Digitalize Your Business with Order Management Software!
Starting and running a home service company may be gratifying as well as difficult. You need a solid on-demand home services app in place if you want to stand out in a crowded market and give your customers excellent service. Software for order management is useful in this situation. The entire process of receiving, scheduling, dispatching, and maintaining service orders has been streamlined and optimized using this technology. The effectiveness, client happiness, and profitability of your firm can all be dramatically improved by order management software. Here, we'll show you how to use order management software to launch and expand your home service company.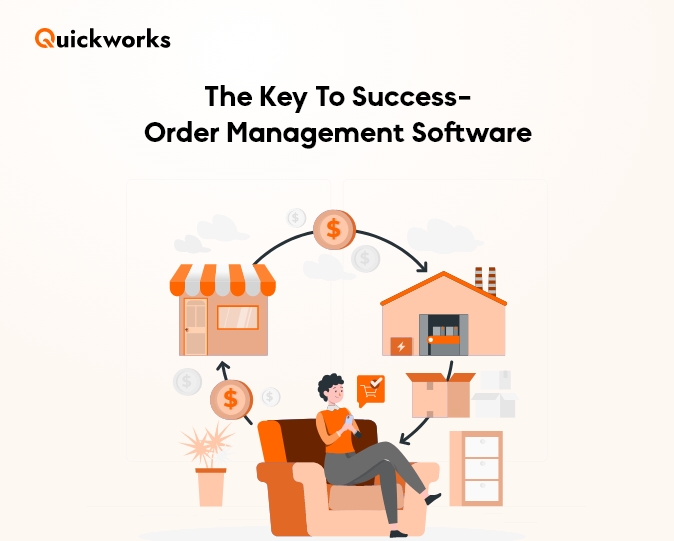 The entire process of receiving, arranging, dispatching, and maintaining service orders can be streamlined and optimized with order management software. It acts as the focal point of your home service company, enabling you to effectively oversee every facet of your business operations, from order origination to order fulfillment. An effective solution that can increase your company's productivity, client satisfaction, and profitability is order management software.
Key Features of an Order Management Software
1Order Creation and Assignment
Easily create on-demand home services orders, assign them to your staff or contractors, and set priorities based on urgency or customer preferences.
2Efficient Communication
Facilitate communication between your team members, customers, and contractors through the software, ensuring everyone is on the same page.
3Scheduling and Dispatching
Efficiently schedule appointments and dispatch your technicians to the right locations with real-time updates and GPS tracking.
4Invoicing and Payment Processing
Generate invoices, process payments, and keep track of financial transactions seamlessly.
5Real-Time Tracking
Monitor the progress of service orders in real-time, allowing you to provide accurate arrival times to customers and make adjustments as needed.
6Customer Feedback and Reviews
Collect feedback from customers, address concerns promptly, and use positive reviews to build your business's reputation.
7Reporting and Analytics
Access comprehensive reports and analytics to gain insights into your business's performance, identify areas for improvement, and make data-driven decisions.
These features not only make your daily operations go more smoothly, but they also improve the customer experience overall, increasing customer satisfaction and encouraging repeat business.
How to Select the Right Order Management Software?
It's critical to evaluate your unique needs and objectives before choosing order management software for your home service business. Think about the following elements:
Do you expect your business to be small-scale or will there be a lot of service orders?
Do your services require several steps and customization, or are they simple to use out of the box?
Will the program be used by numerous workers or independent contractors, and do they need mobile access?
What kind of real-time updates and communication can your customers expect?
How much money do you have to spend on order management software, and are you searching for a product with a range of affordable pricing options?
It's time to evaluate various on-demand home services app solutions once you know your company's requirements. Ensure the program has the tools you require to automate your processes and satisfy consumer demands.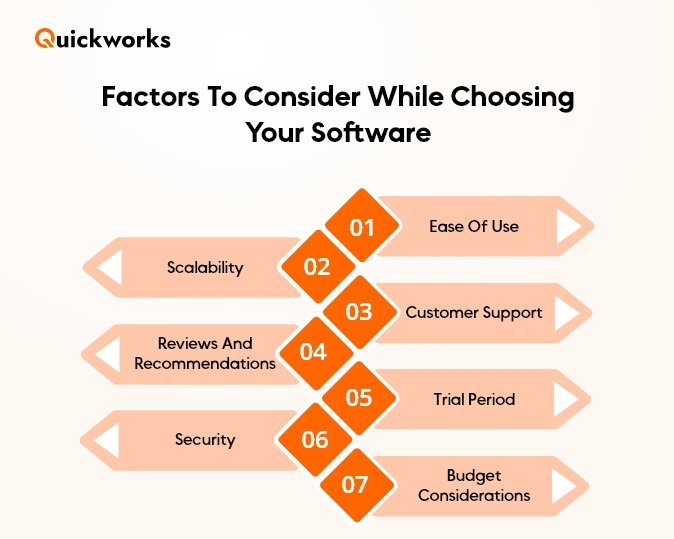 Multichannel Management
All of your sales channels should be able to be integrated into the order management system you choose through a single user interface. Consolidating all the crucial information you need into one easily accessible location based on real-time data, will provide you with a clear perspective of data and orders and eliminate errors.
Features and Pricing
Examine the specifications and costs of the order management systems you are thinking about. Ensure the system you select provides the functionality you require at a cost that is within your means. Numerous order management systems for home services businesses are built with software integration in mind. These include systems for accounting, stock, and customer relationship management (CRM). Look for an order management system that integrates with your current software easily.
Customer reviews
An order management system can be evaluated objectively using customer reviews. To learn how the system functions and whether it is a good fit for your company, read reviews from other businesses in the online on-demand home services market.
Consider scalability
You might need to scale up your order management system as your firm expands. Make sure the system you select can handle the rising order complexity and volume. Upgrading order management software to the newest version is not always feasible. You should therefore take the long-term requirements into account when choosing an order management software for your online business. Choosing order management software that can scale up your order volumes over time would be beneficial.
Real-Time Inventory Management
The sophisticated capability of controlling your stocks across numerous platforms from one location should be part of a strong order management system. You must have a thorough understanding of inventories because they are a vital component of business. The on-demand home services app solution you choose for your company should be able to keep you informed about how many products are in stock and how many you need to replenish.
Support and training
Last but not least, ensure sure the order management system you select offers quality support and training choices. It will guarantee that you can maximize the system's functionality and swiftly address any faults.
Future Trends and Innovations For Modernizing On-demand Businesses
The home services business sector is always changing due to consumer preferences shifting and technological improvements. Think about the following trends and advancements to maintain your competitive edge and set up your company for success in the future: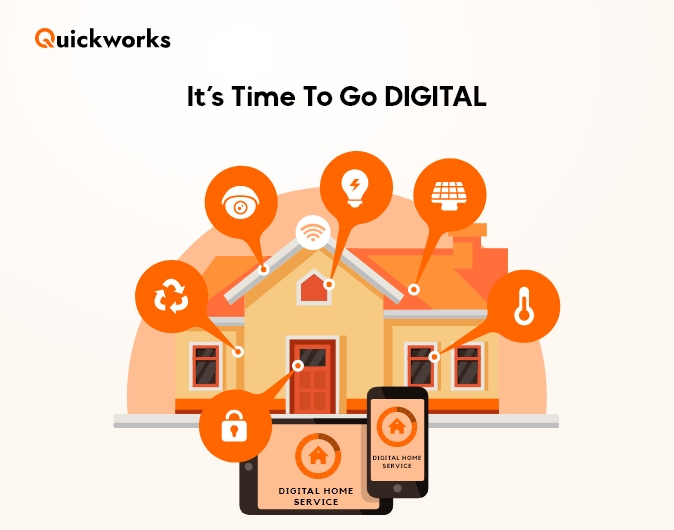 Boosting Productivity with Mobile Applications
In the home service sector, mobile apps and on-demand services have grown in popularity. Customers value how easy it is to make reservations for services, get real-time updates, and pay via mobile apps. To reach a larger audience, think about creating a mobile app specifically for your company or collaborating with order management software.
Synchronization by Smart Home Devices
Home service companies increasingly need to interact with smart home systems and gadgets as homes become smarter. Keeping up with advances in smart home technology, whether it be for voice-activated assistants, security cameras, or smart thermostats, can help your company stand out.
Green and Sustainable Practices
Environmentally concerned consumers are driving up demand for sustainable and eco-friendly home servicing methods. To draw in clients who care about the environment, take into account implementing eco-friendly cleaning solutions, energy-efficient fixtures, and sustainable landscaping techniques.
Automation and Artificial Intelligence (AI)
Automation and chatbots enabled by AI can simplify appointment scheduling and customer service. AI algorithms can also be used to plan the most effective and economical routes for technicians. Look into AI on-demand home services app solutions that can improve your business's operations and customer service.
Streamlining Home Service Operations with Quickorders
A home service business might be difficult to start and run, but it also offers a lot of potential. Utilizing order management software may revolutionize processes, improve customer happiness, and spur company expansion. You may set up your home services business for long-term success by choosing the best software solution, putting it into practice, and keeping up with market changes.
The need for home services is growing as a result of consumer preference changes and technology improvements. Home service companies must change to satisfy these new demands as houses get smarter and sustainability becomes more important. Your company can succeed in this competitive market by remaining innovative and utilizing the potential of order management software.
Get started -
Our order management software makes creating service orders simple. Include crucial information such as the client's identity, the type of service, the preferred days and times, and any special instructions.
Based on established parameters, such as geography or skill set, the program can automatically distribute service orders to available professionals or contractors.
To ensure effective scheduling, rank service requests according to urgency, client preferences, or other considerations.
Give clients real-time information on their service requests, including appointment confirmations and anticipated arrival times.
The software provides a visual calendar interface that makes it easy to drag & drop appointments and dispatch technicians.
Reduce travel time and fuel expenses by maximizing the efficiency of technician routes.
Reduce client wait times by sending service requests in real-time to the closest available personnel.
Track the whereabouts of your field technicians so you can provide your clients with precise arrival times and make any necessary adjustments in real-time.
Customers receive reminders and confirmations for forthcoming appointments automatically on the on-demand home services app.
Prioritize and quickly classify service calls for emergency assistance for prompt dispatch.
Set off on your quest to build a home service business with assurance, knowing that you have what it takes to succeed. Home services have a promising future, and your company may lead this exciting sector.
Frequently Asked Questions(FAQs)
If you want to launch your app with the most cutting-edge features, the price may reach $100k. These costing suggestions pertain to full-time project development. Depending on the intricacy of the program, you may also employ on-demand app developers. However, cloud-based software solutions will cost you just $49 per month.
On-demand applications are a desirable and tempting alternative for clients of all ages because they enable users to access an array of services with just the touch of a button.
Very effective and economical

Enhanced clientele services

Availability of a larger selection of services

Enhanced client loyalty

Expanded market exposure and reach
A tsunami of transformation has been led by the adoption of AI in the home services sector. Service providers may now anticipate customer behavior using AI-driven algorithms, personalizing recommendations, automating tedious activities, and streamlining workflows.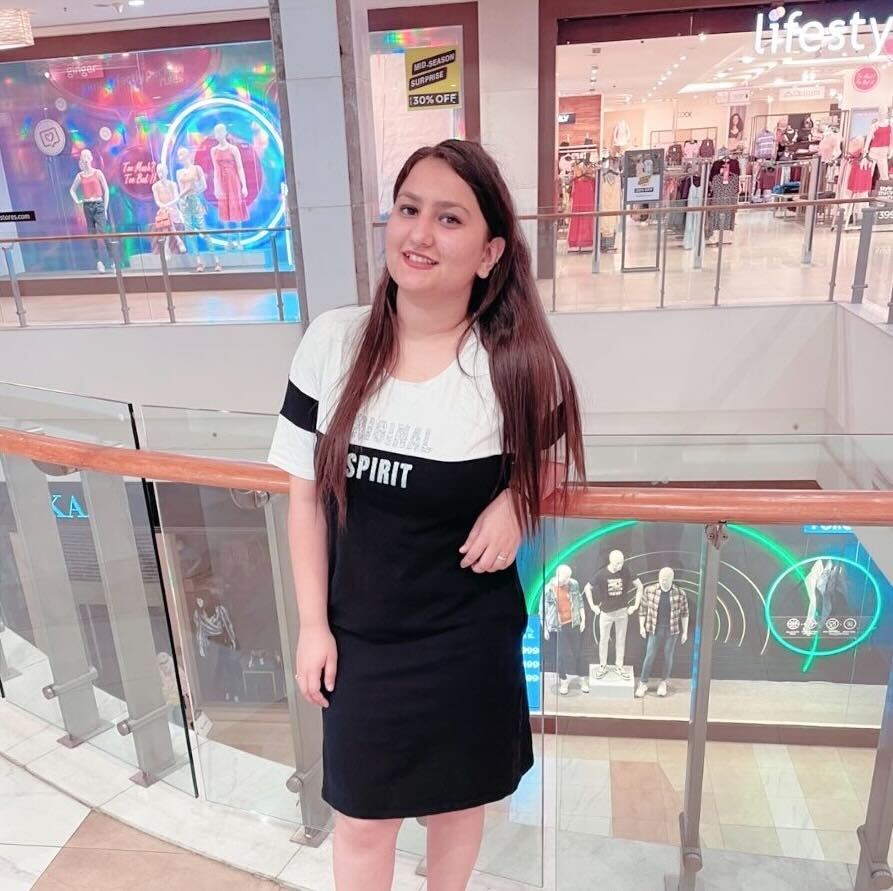 Chubby & Enthusiastic! Proficient in marketing research and statistical analysis. Highly creative with my thoughts about the latest mobile and web advancements. Dwell up the tech world with my glasses :)
Subscribe to Get Search Free
Updates on Upcoming Tech Stories.