Quickorders Knowledge Base
Get Support 24/7
How to Track Payments in Quickorders?
Any online business must set up secure, efficient payment systems. Most clients won't finish the transaction without a safe and simple payment channel. You may customize your payment preferences on our platform, which also offers a selection of more than 40 payment gateways.
The best payment gateway services are essential for managing all online credit card transactions. The payment gateway's main function is to facilitate transactions between you and your customers. You won't receive the money if a payment gateway doesn't approve the transaction, so keep that in mind.
Transaction data is analyzed and moved by a payment processor. Payment gateways certify the exchange of money between customers and retailers. The outstanding payment tool will enable admin users to charge outstanding payments, cancellation fees, and other ad-hoc charges to your customer's account. As soon as the customer accesses a web or mobile application, it will appear in their account on both platforms.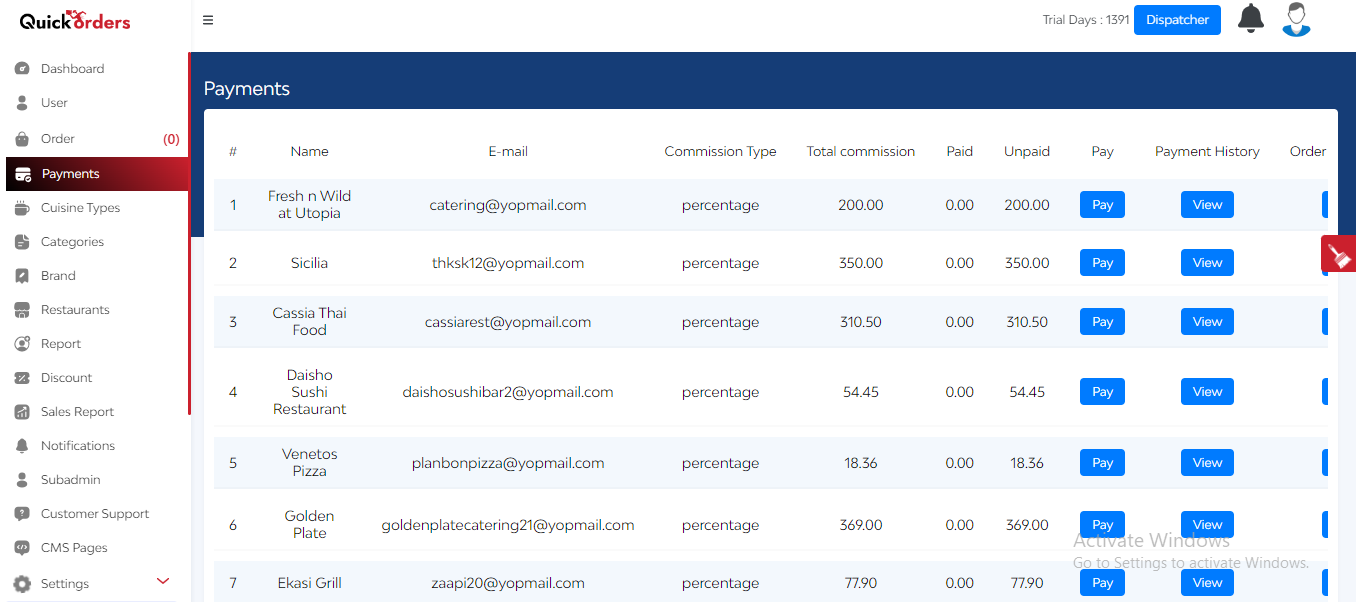 The admin can see the name of the merchant in the email section.
The email contact details of the merchant are given commission type indicates how the admin will earn revenue.
It can either be in percentage or it can be a fixed amount.
The total amount denotes the amount that is paid to the admin.
After completion of an order paid amount refers to the amount which the admin pays to the merchant unpaid amount represents the amount that is yet to be paid to the merchant.
By clicking on the pay option.
Admin can pay the outstanding amount to the merchant payment.
History tells the past transactions with a particular merchant order commission enables that is earned on one order.
This completes the payment feature of the Quickorders admin panel to know more about quick orders.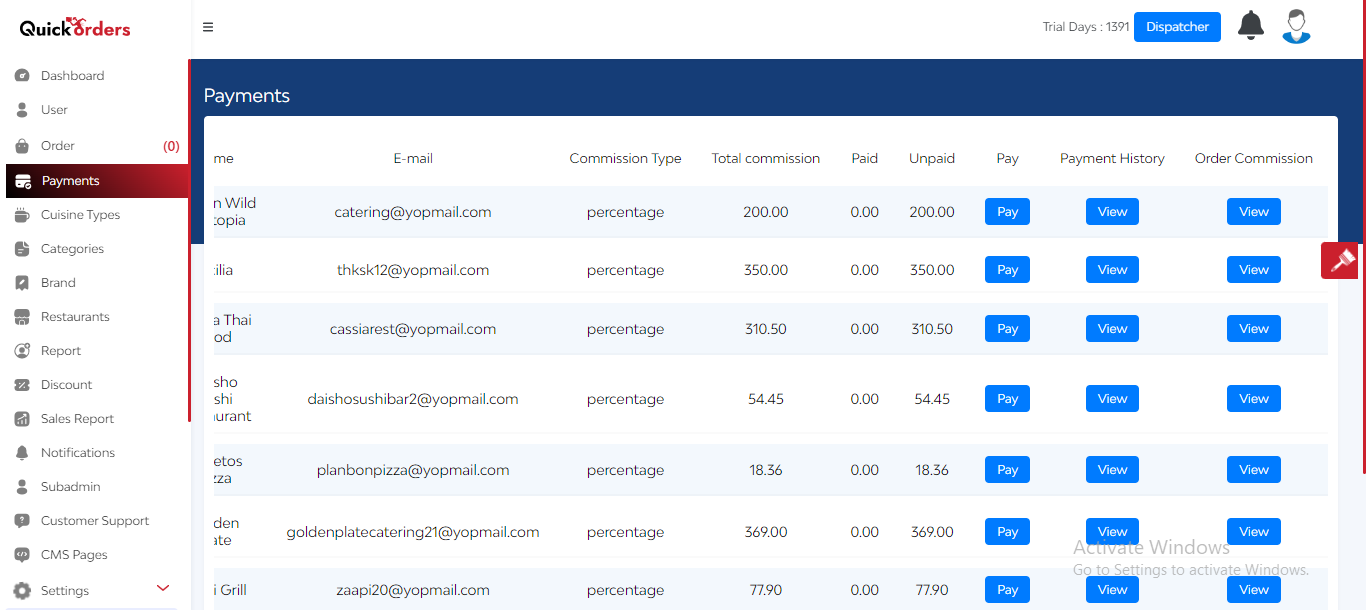 Almost all online purchases made through e-commerce sites, marketplaces, or web-based service platforms require a Payment Gateway. With more and more businesses transferring their operations online, it is crucial to elevate your online marketplace with a reliable and secure payment gateway.
With the addition of new payment gateways each month, our platform enables you to connect your marketplace with more than 40+ different payment channels globally. Our platform offers a number of well-known payment gateways, including:
PayPal
PayTM
Razorpay
Payfast
Stripe Ideal
and much more
Online transactions are quick and simple. If you have a strong internet connection, you can sell to anyone around the globe. Even a smartphone will entail you about payments; no computer is necessary.
We're interested in hearing your opinions. If your preferred payment gateway is not listed on our platform, send us a message and we'll get it for you.
View Demo