Quickdelivery Knowledge Base
Get Support 24/7
Reports
The admin can manage the payout of the drivers from the report feature and will be able to see the following – Driver Payouts, Pending Payouts, and Active Areas. With the help of this Reports feature, you can monitor your agent's revenue and job price thanks to adjustable rule settings. Here, you can determine pricing for the consumer based on any value or compensate your agents.
Measuring, controlling, and evaluating marketing performance in order to maximize effectiveness and optimize return on investment (ROI) is known as marketing analytics. Gaining an understanding of analytics makes it possible to work more productively and spend less money on unnecessary operations. Quickdelivery lets you handle all aspects of delivery management from a single platform, increasing productivity and providing great customer service on a large scale.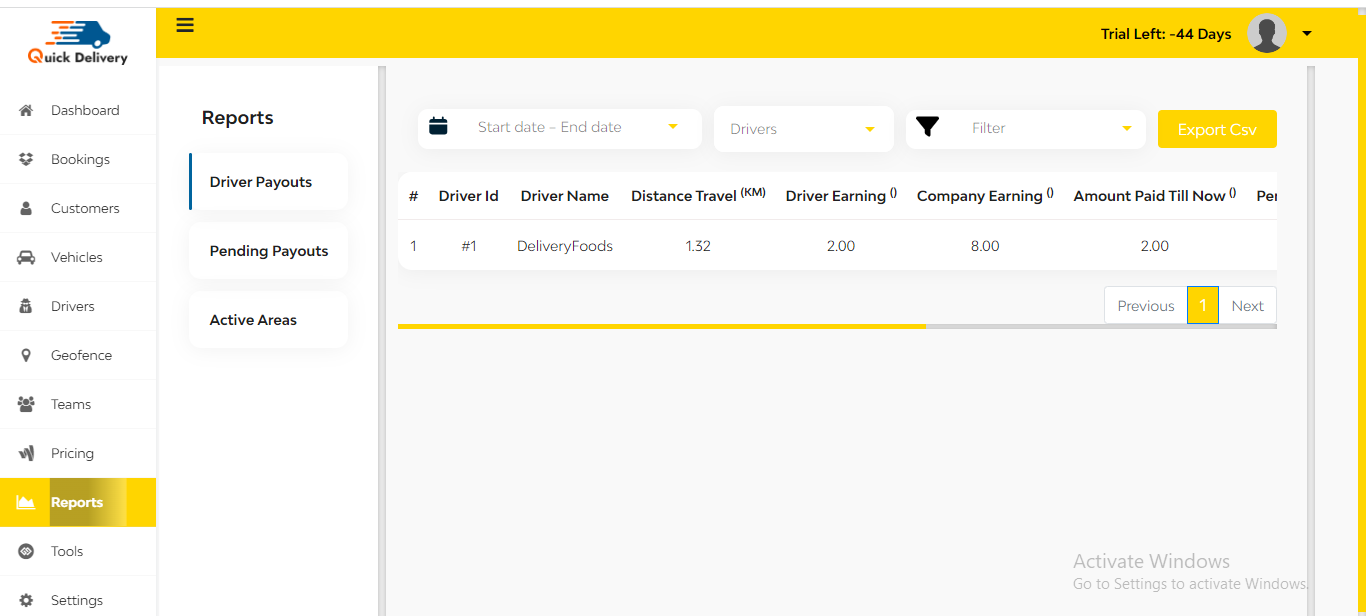 The administrator can view several details, including Driver ID, Driver Name, and Distance Traveled, in the driver payout module.
The terms "driver earning" and "company earning" relate to the money made by the driver and the company, respectively.
The amount that the company has paid the driver up to this point is shown in the amount paid till now tab.
The amount of money that the admin needs to take from the driver is indicated on the pending cash tab.
The amount of cash that the driver has previously provided the admin is shown on the cash balance tab.
The online balance shows the amount that the admin has already transferred to the driver, while the pending online tab shows the amount that needs to be delivered to the driver by the admin.
The action tab consists of two buttons namely, Full pay and Transactions. The full pay button allows the admin to pay the pending amount to the driver.
The transactions button allows the admin to view the previous transactions between him and the particular driver.
In the top section, there are several filters present such as date filter and the search bar for a particular driver. The admin can even import the data in a CSV file format by clicking on the Export CSV button.
The administrator can view the payment that the driver requested using the pending payout module. The administrator can view each driver's unique driver ID in the pending payout section.
The driver's identity and the amount they have asked are also visible to the admin. The payment status is indicated on the status tab, and the admin can amend or remove a specific request using the action tab.
The admin is informed about the places where drivers are most active through the active areas module. Even more, the admin has the option to look for active locations within a certain geofence or by utilizing the date filter.
Getting items delivered on the same day has become a critical performance indicator. Boost your delivery services and expand your company's operations using Quickdelivery.
View Demo