Fight Your Business Challenges with Powerful On-demand Flower Delivery App Solutions

68 Views

8

min

August 2, 2023

Last Updated: August 2, 2023
The custom of sending flowers on special occasions and holidays has been around for ages. A flower arrangement can make the atmosphere more upbeat. Flowers make wonderful presents for birthdays, weddings, anniversaries, parties, and many other events. However, consumers can now swiftly receive flowers at their doorway thanks to the introduction of the most recent technology advancements. These factors have encouraged numerous flower shops to adopt flower delivery software that also addresses workforce management issues.
Flowers are the best and most popular present for every event or occasion. It takes a lot of energy and time to go through the many stores looking for the ideal bouquet for special occasions. The good news is that everything can now be delivered on demand thanks to technological improvements, and the on-demand flower delivery app is only one of them. Let's find out more perks of flower delivery app development!
Statistics and Size of the Flower Market for 2023 and Beyond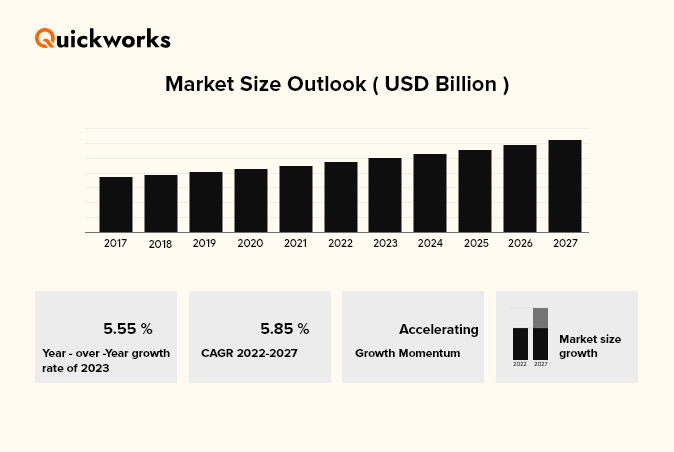 Online flower delivery app may be the sweetest start-up because it is incredibly cost-effective for new florist enterprises and easy on the wallet. According to the following figures, the flower and plant delivery industry has experienced tremendous expansion and customer interest: Let's look at market statistics and assess the size of the flower market before moving on with developing an app for your floral business.
The value of the worldwide floriculture market is anticipated to increase to over USD 80.5 billion by 2029, growing at a CAGR of roughly 6.7% from 2022 to 2029. The US is the world's leading consumer of cut flowers, spending $1.83 billion yearly. The majority of flowers sold in the US are imported from foreign nations—about 80%.
It goes without saying that the flower industry is lucrative, therefore you shouldn't pass up the opportunity to start an on-demand flower delivery company. There are already flower delivery businesses like Ferns n Petals (FNP), FlowerAura, and Bouqs Co. that have gained popularity globally and generated revenues of 350 million USD, 16 million USD, and 59.2 million USD, respectively. You can switch to the online flower delivery app if you're a startup or already run a flower store in order to boost sales. Online florist delivery services have grown in importance over the past several years in many developed nations. In many places, it is now a major economic driver. The development of the flower delivery industry has been beneficial to florists in many ways. One may keep track of orders, delivery locations, business operation management, transactions, and many other things with the use of management software.



5 Biggest Challenges Faced by Offline Florists
Any offline flower ordering system must overcome formidable obstacles to continue expanding. What difficulties do flower delivery businesses have without an on demand flower delivery app?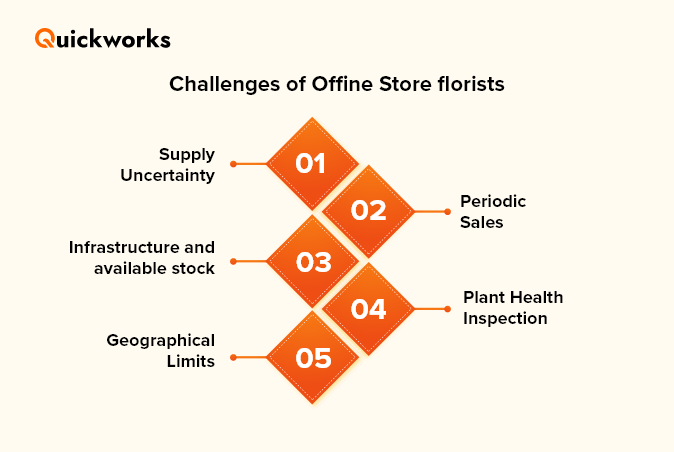 1Supply Uncertainty
The demand for flowers is at its highest during holidays like Mother's Day, Women's Day, and Valentine's Day. Months in advance, growers, distributors, and wholesalers plan for these. Large floriculture is dependent on nature, thus any change in temperature, humidity, or rainfall throws off the entire production schedule, leading to poor quality and decreased output. One of the difficulties that every distributor has encountered time and time again is the lack of flowers. The majority of customers or markets have specific demands for flowers and packaging. Additionally, there are flower box packs that are of poor quality, contain either too many or too few flowers, resulting in the box damaging the flowers while in transit. When those flowers arrive at the distributors' warehouse, they don't pass the quality inspection, so they are rejected.
2Periodic Sales
On holidays, such as Mother's Day, Valentine's Day, or someone's birthday, people purchase flowers from stores. Because buying is seasonal, there may be little to no sales on dull days, which results in lower profits. Although there is no obligation to set up a shop daily and decorate with fresh flowers, the cost of investing in online shops is lower. Following harvest, flowers require correct handling and post-harvest care. They need to be refrigerated, pruned, graded, grouped, properly packed, and kept in the cold room.
3Infrastructure and Available Stock
Flowers are really fragile. The most popular means of transportation is flying. Because there isn't enough room, distributors lose out on sales because flowers can't be transported. Airlines have been known to dump shipments on occasion for technical reasons. These include scenarios like missing a flight connection. All of these conditions result in delivery delays, which degrade flower quality and shorten their lifespan. When thinking about opening an offline store, keep in mind that you would need to manage your inventory and rent every day. The ROI is poor and infrastructure costs are significant. However, because internet retailers don't have to invest in maintaining a regular inventory, their costs are lower and their profits are higher.
4Geographical Limits
Your physical flower shop's presence is restricted to a particular region, which has an impact on your clientele, sales, and profit.
By switching to an online store, your company's visibility will rise and you will have a global presence. Having customers from all around the world would increase sales and profits while also lowering other costs.
Following the pandemic, practically all businesses shifted to operating online retail stores. Since then, there is little doubt that e-commerce has exploded, and predictions indicate that by 2025, online retail sales will surpass 7 trillion USD. With the use of delivery apps, businesses are increasing client loyalty and sales, and you can do the same. The market for flowers is enormous, therefore you should make the most of it by expanding your flower business by introducing a delivery app that will reach more people and increase sales.
5Plant Health Inspection
To ensure that no pests or diseases enter the importing country, phyto officials inspect the shipment when it reaches the destination country. If diseases and pests are found, the entire consignment is quarantined. Shipments are quarantined and fumigated based on the kinds of diseases and pests discovered. The package is given to wholesalers after fumigation. This results in a one- to two-day delay, which lowers the quality of the flowers. Sometimes the entire package is thrown out.
Delineating Significant Features of the Online Floral Delivery System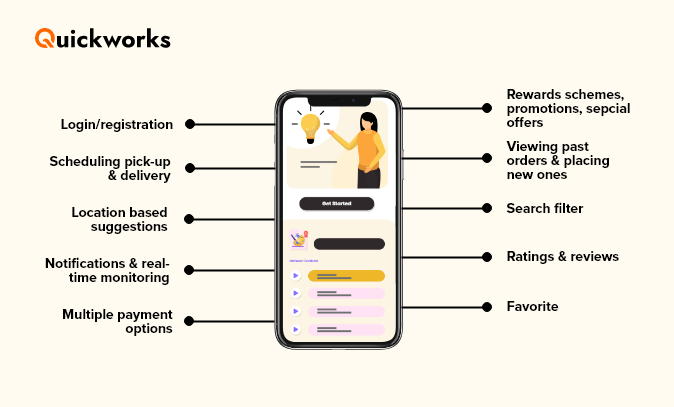 The ease of the client is the key determinant of the success of online enterprises, and more consumers are interested in making purchases online. You should use some marketing strategies as an online store since they may be effective. One prerequisite to continuing to be successful and competitive online is to build Florist software. The advantages of creating an on demand flower delivery app for your company include the following:
1Inventory Control
For florists and flower suppliers, an online florist delivery software can be a fantastic platform for posting the availability of their supply stocks. It includes a specific inventory management portion that divides flowers into different groups, therefore streamlining any inventory system. As a result, the market's regular flow of flowers is maintained.
2Customer Loyalty
Customers are made aware of timely deals and discounts by having them posted through the Flower Delivery program. They run to the system, choose the flower that best suits their needs or preferences, and place their order. The many flower goods are conveniently used by customers at their doorstep. This is one of the most effective methods for retaining both current and potential clients on your platform. Because of this, you quickly see an increase in profit and sales.
3Simple Advertising & Promotions
Delivering flowers Social media websites like Facebook, Twitter, and Instagram can be readily coupled with apps. You can advertise your software by including a link to the download page on your profile. It will be accessible to everyone in your social network and online, simplifying marketing and promotions. If users of your online flower delivery app are happy with your goods and services, they can quickly tell others where they can download the app. You won't need to do any offline marketing or call any referrals to increase traffic to your florist company.
4Obtain a Vast Customer Base
Worldwide, there are billions of active internet users. Any nation nowadays undoubtedly has a few million users who are engaged on their social media networks or any platform that seeks to engage social communities. You will be able to earn enough money from a small portion of this enormous customer base to comfortably support your business and lifestyle. One of the most prominent digital platforms right now that gains popularity quickly on social media platforms is the delivery of flowers. Therefore, a current and trendy flower ordering system can undoubtedly open up a vast customer base for you.
5Simple Payment Techniques
You may incorporate secure payment mechanisms with your flower delivery app. By using this technique, you can also let your clients know what payment option you prefer. Through a protected and end-to-end encrypted payment interface, it can be sent to your business bank account or to an online wallet you own.
Similar to that, on demand flower delivery app gives clients the freedom to make their payments however they choose. They can use their debit or credit cards to pay for your bill, as well as other online payment methods. Together, they offer you a convenient and small payment method.
6Low Store Physical Maintenance
You can accept online orders and payments with the aid of an on-demand flower delivery app. Customers are less likely to personally visit your store to place orders as a result. Additionally, this lessens the possibility of any unintentional retail damage or wear and tear occurring during peak hours. This enables you to maintain your physical business at a lower level because you won't need to invest as much in amenities for customers to wait or behind-the-scenes decorations.
Opportunity To Create a Strong Brand with Less Investment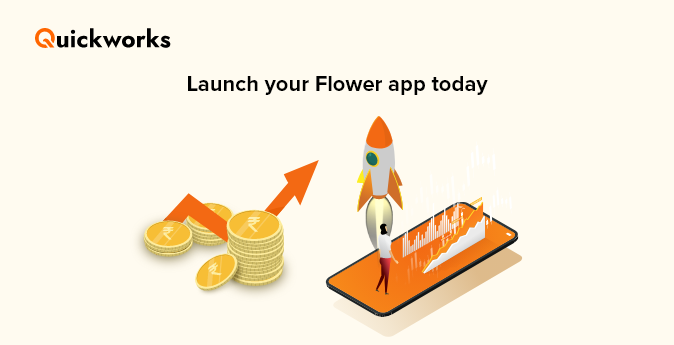 If you're considering beginning a flower delivery company, you should concentrate on developing a flower delivery app because it will considerably minimize your start-up costs. You won't need to spend money on a fully outfitted store to start your business, and you can even run it from a basic warehouse. Simply delivering the orders on time and to the correct location will ensure that no customers will bother you if your services are flawless and prompt. Although the cost of developing on-demand Florist software is high, your entire investment will undoubtedly be lower than opening a real business.
You can easily expand your customer base, use digital tools to run effective marketing campaigns, and create an on-demand flower delivery app. This makes it possible for you to establish a stronger presence faster in front of a variety of audiences. This is sufficient to launch a potent branding effort to gain notoriety for your online store. Finding the demographics and appropriate range of the customers you are targeting is all that is necessary.
You are halfway through the branding process if you are aware of the user channel you intend to work with. Rest rely on the distinctiveness and caliber of services you offer to gain notoriety more quickly. With a large potential consumer base, the billion-dollar on-demand flower delivery market is expanding. Customers' behavior has significantly altered over the past few years, and they are now more focused on using online ordering platforms. You may reach a larger audience and have a good possibility of increasing your sales by using online flower delivery software.
Build Your On-Demand Flower Delivery App with Quickworks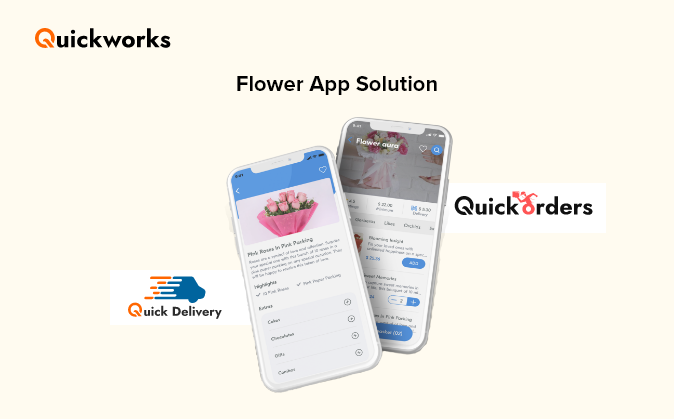 Among the most recent trends are flower and plant delivery applications. As a flower shop owner, you must work extra hard and be shrewd to establish your business online in order to stand out more in this cutthroat market. Yelowxpress is a strong solution that gives you an excellent online presence and functionality for your app to increase the success of your online flower company. We take all of your specifications and turn them into an easy-to-build, run, and scale your on-demand flower delivery app for your preferred iOS, Android, and web platforms. This is the ideal time to go digital and be accessible around the clock for your floral shops' large clientele.
Using a single flower ordering system, you can manage your whole operation. Create your online flower delivery app with the robust integration package, which combines automated customer engagement, effective delivery management, and smooth digital ordering.
Our flower delivery app development process eases your customers to quickly select, personalize, and send flowers and plants to their loved ones from their smartphones. Your end-to-end flower delivery business operations can be handled by Quickorders & Quickdelivery, including ordering, delivery automation, optimizing routes, and much more. Quickworks provides a smooth flower ordering system with lovely designs for your flower delivery app, inventory management, and limitless listings so you may list as many flowers as you like for your online flower business.
Get in touch with our team and request a free demo today!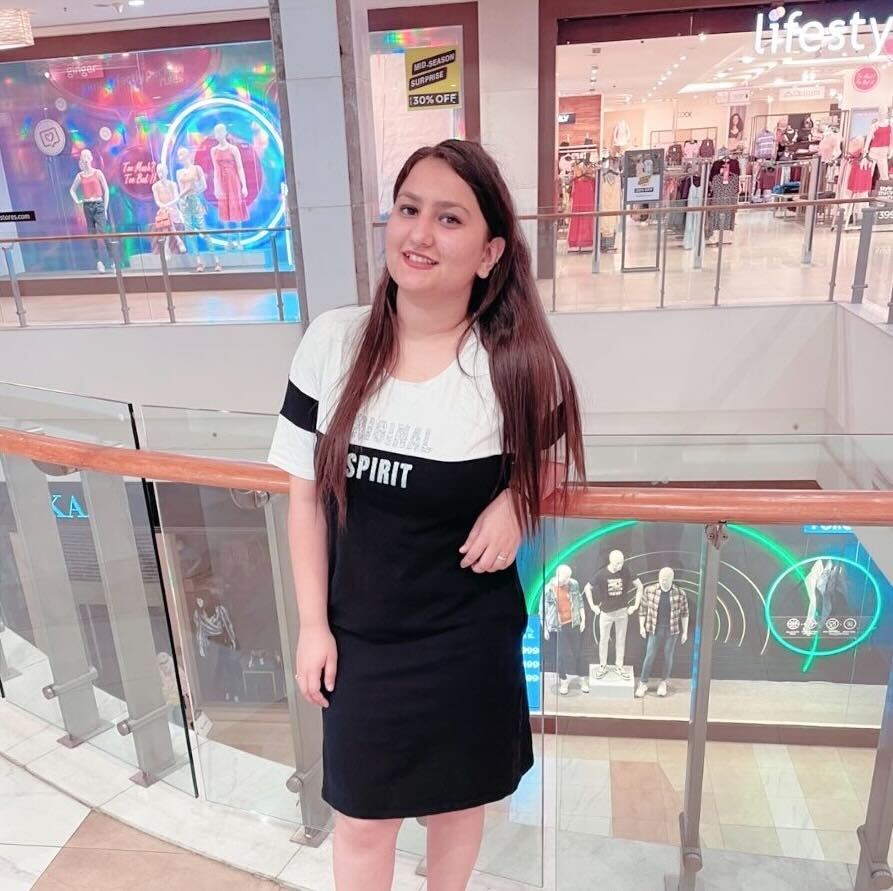 Chubby & Enthusiastic! Proficient in marketing research and statistical analysis. Highly creative with my thoughts about the latest mobile and web advancements. Dwell up the tech world with my glasses :)
Subscribe to Get Search Free
Updates on Upcoming Tech Stories.